Product Information
DIMENSIONS: H 560 x W 606 x D 527mm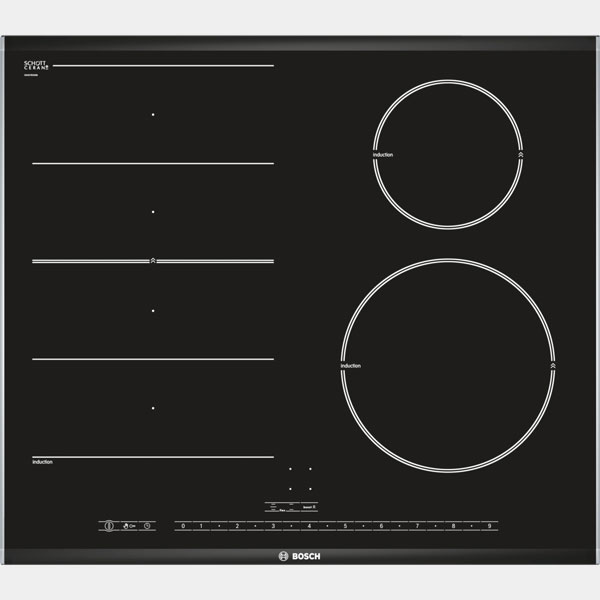 Stylish, powerful and extremely flexible, the FlexInduction hob from Bosch is a perfect addition to any kitchen. Seamlessly integrated into your counter, this hob provides added space and the ability to do more at once.
With features to keep you safe while cooking and an easy clean surface, this hob is ideal for a busy household.
FLEXIBLE COOKING
Providing two standard cooking zones and one flexible zone, the Bosch FlexInduction hob gives you the power to prepare several dishes together.
The flexible zone can accommodate several pots and pans at once, or simply large and unusually shaped cookware. Combining two cooking zone into one adaptable cooking area, the possibilities of this hob are greater compared to those with a set number of zones.
Using induction technology, heat is delivered straight into your pots and pans, providing quicker heating times and wasting less energy. The PowerBoost function is ideal for those smaller jobs such as boiling a pan of pasta, increasing the power by 50% to give you even more rapid results.
Automatic pan recognition identifies where the pan is located, only providing energy to that area.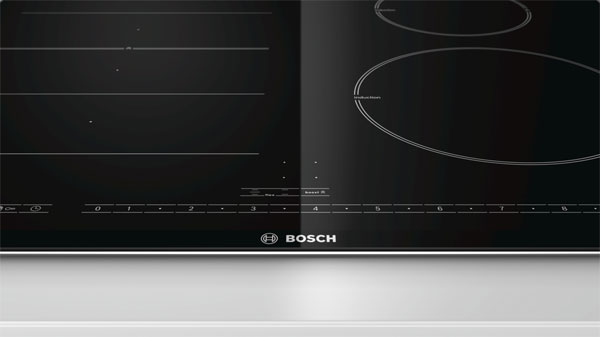 SIMPLE CONTROLS
Take control of your cooking with the touch of a finger. The DirectSelect control panel means you simply select a cooking zone before choosing from 17 power levels to suit your dish. You can easily adjust your settings as you cook, with instant results.
Prevent any accidental changes to your chosen settings with the control panel lock. Ensuring your items are cooked perfectly, the control panel lock lowers the risk of overcooking or burning items.
The restart function is ideal for if you need to leave your cooking for any reason, such as answering the door. Pausing your cooking, you can return to exactly the same settings as when you left with the push of a button.
USEFUL FEATURES
Keeping you informed when the surface is hot, the residual heat indicators remain lit until each zone is safe to touch. Great when you want to clean the hob, you don't have to risk burning yourself.
Each zone includes a timer so you can cook your dish to perfection while an automatic safety switch off prevents items from cooking for too long if left unattended.
Features
DirectSelect operation
Electronic power level display
Automatic safety shut off
Control panel lock
Boost setting for all zones
Automatic pan recognition
Design
606 mm
Front controls
Profile trim (front facette with side trim)
Features
Variable 17-stage power settings for each zone
Main on/off switch
Timer for all zones
2 stage Hh residual heat indicator for each zone
Freeze function
Performance/technical information
4 induction cooking zones
2 x flex induction zone zones with different usage possibilities: each has 2 single induction zones of 480 cm2 or 1 flexInduction zone of 960 cm2