Product Information
This Samsung H-Series fridge freezer is packed full of features making food storage easier whilst providing optimised conditions to keep food fresher for longer. In stylish black equipped with its own mini bar the fridge freezer makes for a stylish addition to the kitchen. The double door opening provides easy access to your food and with multiple shelves there's plenty of space to organise all your shopping.
SPACIOUS & ORGANISED STORAGE
The Samsung RS7677FHCBC American style fridge freezer offers a wealth of storage space with a total capacity of 543L, that's enough space for 3 full shopping trolleys worth of food.
Food is easily accessible with the side by side design and organised interior layout. The fridge has a capacity of 359L, housing 5 adjustable shelves and 2 salad crisper drawers, which are larger than usual to easily accommodate bulky fresh produce such as melons and lettuce.
The freezer has a capacity of 184L, housing 4 adjustable shelves, 2 drawers and door balconies to make the most of your freezer space.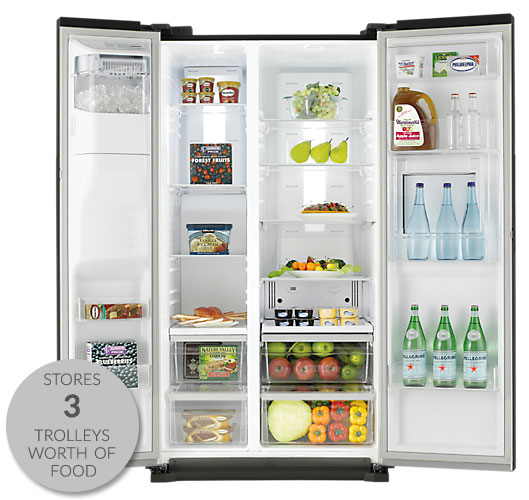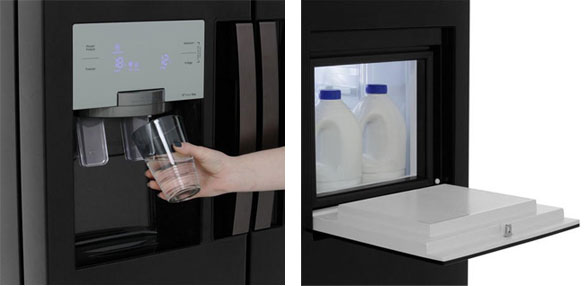 CONVENIENCE AT YOUR FINGERTIPS
This fridge freezer features its own mini bar. It's sure to impress and highly practical having perfectly chilled beverages and every day essentials at hand without effecting the interior temperature of the fridge. The door opens with a simple touch and also acts as a shelf to serve your drink on.
There's also a convenient built-in ice maker, holding an impressive 2kg of ice and with a clear exterior you can easily see when you're getting low on ice. The fridge also has the capability of instantly delivering chilled water, so you can enjoy a refreshing glass of water whenever.
Know what's happening inside your refrigerator without ever opening the door. The external LED display has a stylish blue glow, shows the inside temperature for both sides and lets you know when it's time to change the filter. Touch the display to dispense water and ice, or to set the refrigerator to Vacation Mode when you go on holiday.
OPTIMISED CONDITIONS
Twin cooling – The H-Series Samsung fridge freezer uses two separate air flows which give precise temperature control. This maintains optimal humidity on both the fridge and freezer sides. This smart technology helps keep your fruit and veg fresh, protects frozen items from freezer burn and prevents odour and taste transfer between the fridge and freezer sections.
Multi flow – Small vents over each shelf work to maintain an even temperature throughout the fridge and freezer, especially after you've just opened it. By cooling each compartment at the same time food is kept fresher for longer and icy build-ups are prevented, so you won't need to manually defrost the freezer.
Fast freeze – With fast freeze newly added freezer items are rapidly frozen. Ideal when you've just done a big shop, locking in the fresh quality of the food and maintaining all the nutrients.
Features:
Spacious 543L capacity
Mini drink bar for quick & easy access
Integrated water and ice dispenser
Twin cooling system, optimises food storage
Fast freeze, rapidly freezes newly added food
Full temperature and setting control with an LED display
Stylish design with easy open doors
LED tower lighting, clear visibility of all shelves
Larger fridge drawers, ideal for bulky fruit and veg
Multi flow, maintains even & consistent temperature for fresher food
No frost, easy storage with no icy build-ups
Freezer capacity: 184L
4 Freezer shelves & 2 drawers
Fridge capacity: 359L
5 Tempered glass fridge shelves & 2 salad crisper drawers
Anti Bacterial Protection
Open door alarm
Adjustable Front Feet
Plumbing Required
Temperature warning light
Twin thermostat system
A+ Energy efficiency rating
Cooling capacity: 12kg/24hr
Noise level: 39dB
Required room temperature: 10 To 43 °C
Annual Energy Consumption: 449 Kwh
Dimensions: H178.9 x W91.2 x D71.2 cm
Packed dimensions: H190.7 x W97 x D77 cm
Weight: 117kg
Please Note:
As this is an American style fridge freezer it is larger than your standard fridge freezer – be sure to take accurate measurements to ensure the fridge freezer can fit in your space and fit through the path to your space. All large fridge freezers are doorstep or garage delivery only.
N.B. All large fridge freezers are doorstep or garage delivery only.