Product Information
This multi-functional single oven is the quintessential cooking appliance for the adventurous chef. With 7 cooking functions boosted by the interior fan, this single oven is easy to use, easy to clean and will help you to deliver delicious dinners to the table
Where will this fit in my kitchen?
This oven is designed to fit into a cabinet 600mm wide and it can be either built in or built under the kitchen unit. Please measure the dimensions against your available space and kitchen cabinets carefully to ensure it will fit:
Dimensions:
(W) 595mm x (D) 566mm x (H) 595mm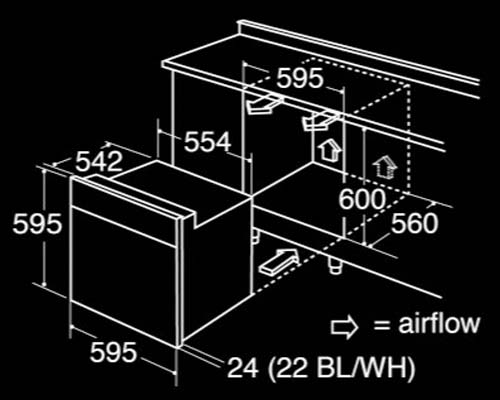 7 cooking functions
1. Fan cooking:
The combination of the circular heating element and the fan means that this function achieves temperatures quicker, reducing the pre-heating time. Food is cooked evenly and efficiently.
2. Conventional oven cooking:
Using the bottom and top heating elements to create the perfect cooking zone in the centre of the oven, this function is ideal for baking.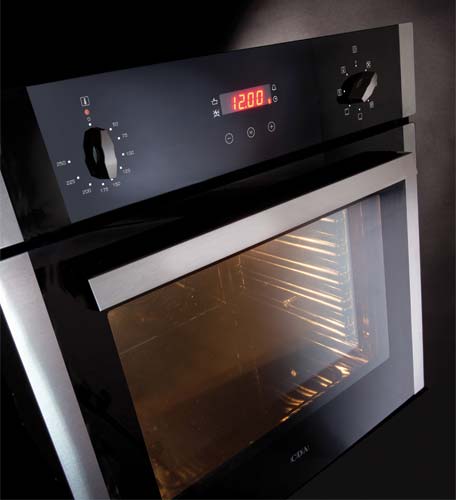 3. Fan assisted cooking:
The circular heating element blows hot air evenly throughout the oven cavity, reducing the pre-heating time and ensuring the food is cooked equally.
4. Warming:
This function only uses the bottom heating element. The natural heat produced is perfect for dough-proving and blind-baking.
5. Defrost:
This function uses the fan to circulate air around frozen food placed in the oven.
6. Grill:
Ideal for grilling a full family meal, the grill function uses the grill element and the top element to cook the food. The temperature can be set between 50°C and 250°C.
7. Fan assisted grill:
The distributes the heat from the grill element evenly around the food. Resulting in equally grilled food, with the temperature ranging between 50°C and 250°C.
Touch control timer
The timer can be used when the oven is on or off. The timer can be set for up to 24 hours, you will be alerted of the end time with a beeping sound.
Easy to clean
The interior of the oven is made from an easy to clean black enamel. The oven door glass is removable, you can simply slide the glass out and give it a thorough clean.
Fan cooled door
This oven has been fitted with a cooling fan to lower the temperature of exterior surfaces of the oven and to reduce the amount of air leaving the oven to achieve maximum cooking efficiency.
The SC612SS also comes with a generous 5 years parts and 2 years labour warranty when you register it with CDA.
Features:
7 cooking functions for flexible cooking
Modern touch control timer
Easy to clean enamel interior
Fan cooled door for a safer cooking environment
Removable oven door glass
Oven net capacity: 55 L
Rated electrical power: 2.16 kW
Power supply: 9.5 A
2 Flat oven shelves
1 Grill pan with grid