Product Information
Dimensions: H 588 x W 597 x D 548mm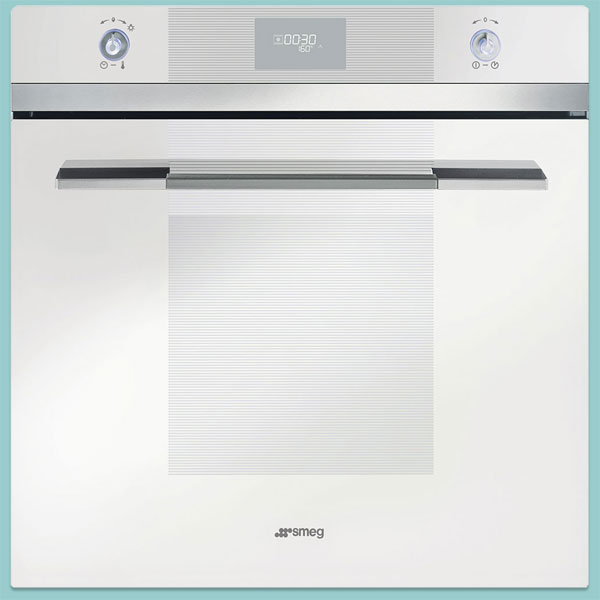 GENEROUS CAPACITY
Boasting a generous 72L capacity, the Smeg SFP109B is ideal for medium to large families. With enough space to cook large items such as a large turkey, making this oven perfect for cooking for special occasions such as Christmas dinner.
An attractive and modern white glass finish brings a sense of style to any kitchen.
SELF-CLEANING
Hate scrubbing your oven clean? There's no need to with this Smeg. Pyrolytic liner absorb grease and, when you set the oven to cleaning mode, this is burnt into a fine ash for you to wipe away quickly with a damp cloth.
During the cleaning process, the oven reaches a high temperature of 500°C and the door is locked to prevent any accidents.
The door is removable, making cleaning even easier, while the quadruple glazing can be separated so you can wipe away every mark.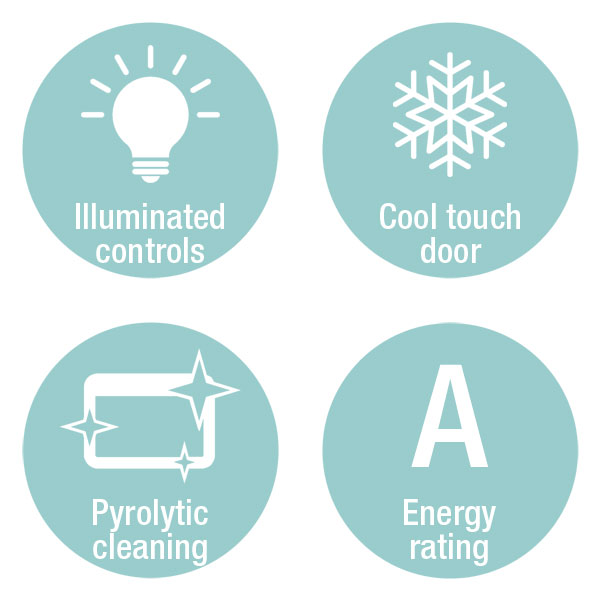 TIME TO PERFECTION
Cook every dish to perfection with the programmable electronic timer. Set it to have dinner ready when you get home from work or to make sure every dish is ready at the same time. Keep an eye on the time with the clear LED clock display if you'd rather take control of your own cooking.
The control dials are illuminated, helping to give a clearer view when choosing your programme and temperature, as well as producing a unique and modern appearance.
SAFETY FEATURES
Keeping your family safe, the child safety lock prevents mischievous little hands from getting into trouble. The quadruple glazed door and air cooling system ensures the outside remains cool, lowering the risk of any burns.
Even grilling is safer with this oven. With many ovens, the door must be kept open when grilling, but not with this offering from Smeg. Enjoy faster, safer results and save money on your energy bills with this safe-cook feature.
ENERGY EFFICIENT
Save money on your energy bills with this A rated oven. Features such as closed-door grilling and ecologic mode help to bring your energy usage down. With rapid pre-heating, the oven will get hotter and ready to cook in less time, meaning the appliance does not have to be turned on for as long.
Key Features
8 functions
Digital electronic programmer with multi display & illuminated controls
Quadruple glazed removable doors
Removable inner door glasses
Electronic controls with child lock
Air cooling system
Closed door grilling
Pyrolytic cleaning
Easy clean enamel interior
Rapid pre-heating
Energy saving option – Ecologic
Metal side supports
5 cooking levels
Maxi plus oven GROSS capacity: 79 litres
Maxi plus oven NET capacity: 72 litres
Conventional: 1.10 kWh
Forced air convection: 0.79 kWh
Nominal power: 3.0kW
13 Amp power supply required
Included Accessories
Extra deep tray (40mm deep)
Chrome shelf
Grill mesh
Also includes Sabbath Mode - This allows you to adapt your appliance in accordance with religious beliefs. Click here to view all appliances with Sabbath Mode