Product Information
PEACE OF MIND
With the Swann DVR8-4600 you have six cameras at your disposal to set up and capture multiple angles of your home or business. A quick and affordable solution, deterring thieves and giving you peace of mind. Be the eye in the sky and check up on your property from anywhere, 24 hours a day.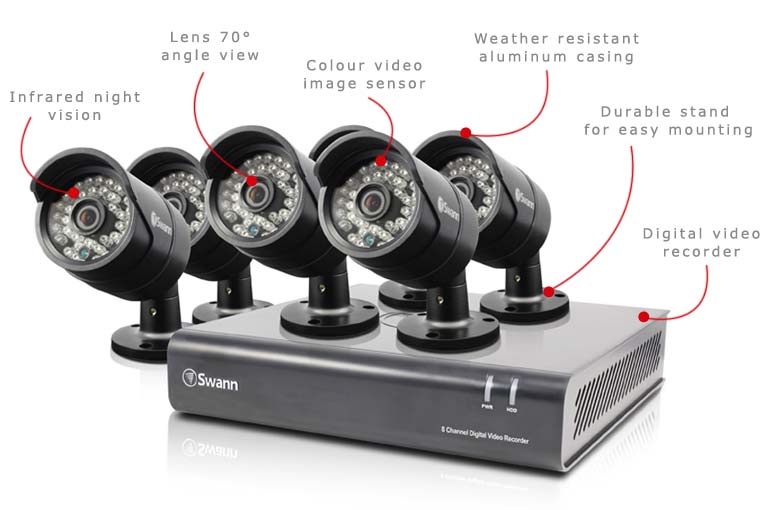 CAPTURE EVERY ANGLE
The Swann DVR8-4600 comes complete with 6 cameras and 8 viewing channels, giving you the option to add 2 more Swann PRO-A800 Series cameras to set up even more viewing points of your property. The 70° viewing angle and the 1080p high definition resolution make sure you won't miss a trick.
OUTDOORS & IN
Set up the six cameras inside and out with no worries. The durable build, easy mount stands and weather resistant aluminium casing make sure that the Swann DVR8-4600 cameras will withstand weather conditions, continuously recording your chosen viewpoints no matter what.
DAY & NIGHT
Featuring colour video image sensors and infrared night vision of up to 100 feet the Swann DVR8-4600 delivers crystal clear recording day and night.
SMART VIEWING
There are many ways to view your recordings with the Swann DVR8-4600. View live or playback video in high definition on your HDTV, LCD screen or monitor via the HDMI connection or VGA port. Using the SwannLink app you can have surveillance in the palm of your hand, check up on your property using your smartphone or tablet from anywhere.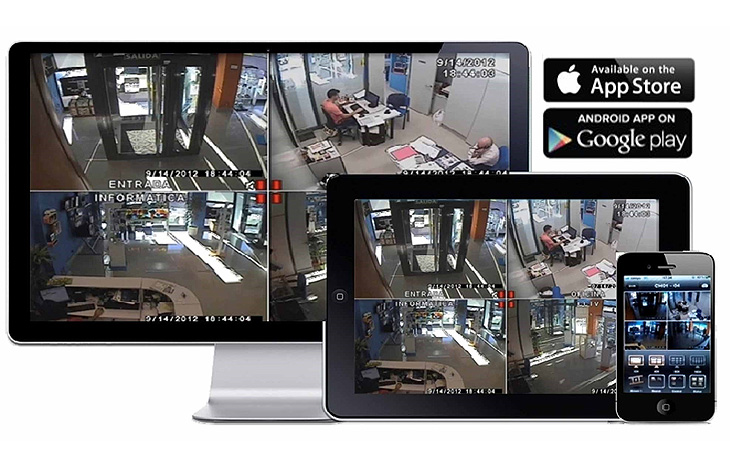 SET & FORGET
Thanks to a 1TB hard drive you can set up your cameras and forget, they will continuously record for 30+ days, longer with motion detection. You can easily locate incident videos and transferring them to an external storage device is effortless via USB or network.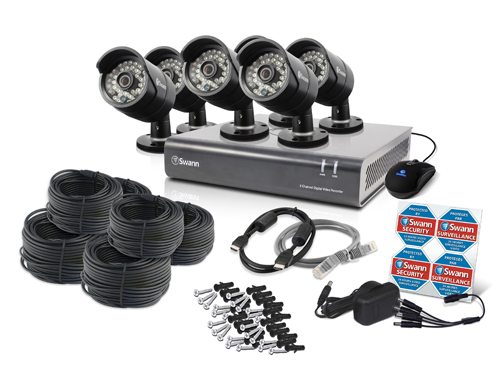 WHAT'S IN THE BOX?
- DVR8-4600 with Hard Drive
- PRO-A855 1080p Cameras x 6
- BNC Cables 60ft /18m x 6
- Ethernet Cable
- HDMI Cable
- Power Adapter & Splitter
- Mouse
- Mounting Screws & Plugs
- Quick Start Guide
- Theft Deterrent Stickers
Features:
Pre-installed 1TB Hard Drive
6 x 1080p Cameras
8 Channels View & Record
Watch via your smartphone
USB flash drive
Continious recording
30m Night vision
70° Viewing Angle
BNC Cable Connection
High Def HDMI & VGA output