Product Information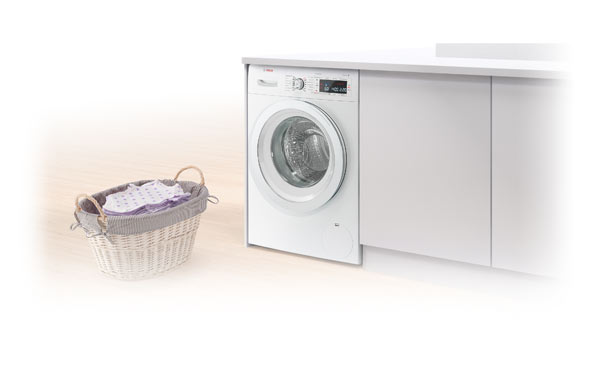 Change the way you do the washing with a Bosch Serie 6 washing machine with i-DOS automatic detergent dosing. A huge 8kg drum means you'll get more done in one load and the wide range of programmes will make sure you get the best results possible from your wash. With innovative technology from Bosch, you can save time, money and conserve energy by simply changing your washing machine and the way you do the laundry.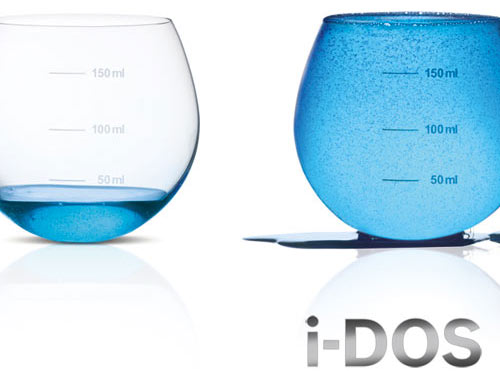 i-DOS - Say Goodbye to the Detergent Ball
i-DOS technology supplies the right amount of detergent for each wash by determining how dirty the load is and how hard the water is. You can be sure that you won't over or under dose detergent again and you can be confident that your laundry will be perfectly clean every time. Not only will you save some cash in your pocket, you'll also be helping the environment. All you need to do is fill the washing machine draw with 1.3 litres of liquid detergent and you'll have enough for around 20 washes*. All you need to do is load the laundry and set it off. You'll have a quicker laundry cycle and save up to 7,062 litres of water per year**.
If, like many people, you don't know how much detergent to use, the i-DOS system will calculate the most efficient amount so you don't have to.
It's like filling up your car. Just add detergent once and let i-DOS dose each wash. Never too little, never too much - discover how precision dosing guarantees perfectly clean laundry every single load.
*20 washes based on 65ml liquid detergent per wash. Calculation may vary depending on soiling and programme. Energy labeling based on 220 washes per annum, therefore 20 (18.33) washes per month. Total amount of washes with 1.3L liquid detergent may vary. **Saving potential with an average of 220 washing loads/year, source: wfk, Institute for Applied Research, Study Report 5132/10. Individual results may vary.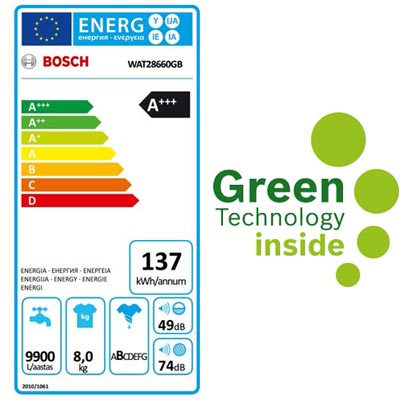 Looking after the planet, and your pocket
Bosch washing machines don't just achieve great energy saving results for you, they'll even show you how much you are saving. EcoBar Plus gives you five possible levels of energy and water consumption depending on the programme you have selected. You'll know straight away how much you're saving by the number of LEDs showing up on your machine.
The less LEDs illuminated, the more energy you are saving.
VarioPerfect technology gives you the choice as to whether you'd prefer to save energy or save time. SpeedPerfect reduces the wash time so your wash will be done in a third of the time - that's a full wash in less than an hour. EcoPerfect can save you almost a third on your electricity. It doesn't matter what you choose as you'll get the same results either way.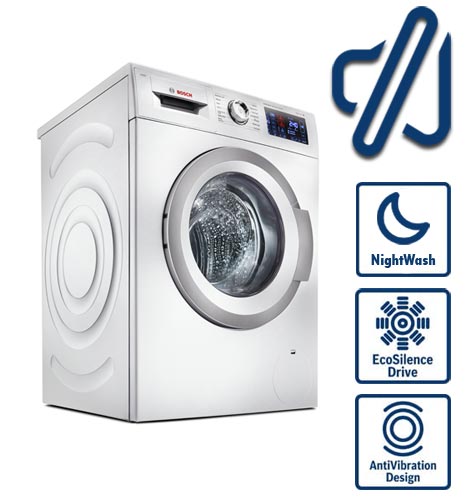 A Quieter Wash
Are you tired of hearing your washing machine rattling around the kitchen for hours? Bosch have been working on a solution just for you. They have developed a brushless motor that is quieter, faster, more energy-efficient, durable and powerful than all of its predecessors. The EcoSilence Drive™ and Anti Vibration Design™ means you'll forget your wash is on and allow you to hear the TV or talk to those in your home without interruption, making this machine even more perfect.
With a quieter motor, you'll be able to rest much easier than ever before, but it just keeps getting better. The NightWash programme is designed to run quietly and can be used in the evening so you can get to the bottom of that pile of washing, without keeping the children and neighbours awake.
Performance:
Energy Efficiency Class: A+++ -30%
Capacity: 8 kg ideal for medium sized households
Maximum spin speed: 1400 rpm
EcoSilence drive with 10 year warranty
Reload Function: Add or remove your laundry mid-cycle
Drum volume: 65 litres
Quiet washing with a 49dB noise level
Dimensions: 848mm(H) x 598mm(W) x 590mm(D)
Energy consumption :137 kWh per year, based on 220 standard washing cycles
Water consumption 9900 litres per year, based on 220 standard washing cycles
Programmes/functions
Touch control buttons: Start / Reload , Temperature selection, Spin speed reduction, Reduced Ironing option, Prewash, EcoPerfect, SpeedPerfect, i-DOS 1, i-DOS 2 and 24 hours Start delay
Special programmes: Outdoor, Shirts, Mixed Load, Automatic, Automatic Gentle, Allergy +, Super Quick 15/30, Wool, Delicates/silk
Key features
i-DOS: automatic dosing of liquid detergent and softener
Reload Function: Add or remove your laundry mid-cycle
EcoBar Plus function: five possible levels of energy and water consumption
VarioPerfect: speed or energy efficiency with perfect wash performance every time
ActiveWater: water management system
EcoSilence drive with 10 year warranty
AntiVibration Design - for more stability and quietness
Additional features
Large LED-Display
Control dial with integrated On / Off mode
WaveDrum: gentle and efficient washing
DrumClean with reminder function
Flow-through sensor for optimum water use
Child lock
Technical Information
Dimensions (H X W X D): 84.8 x 59.8 x 59 cm
Slide-under installation
Large white black grey door with 165° opening and 32cm porthole opening