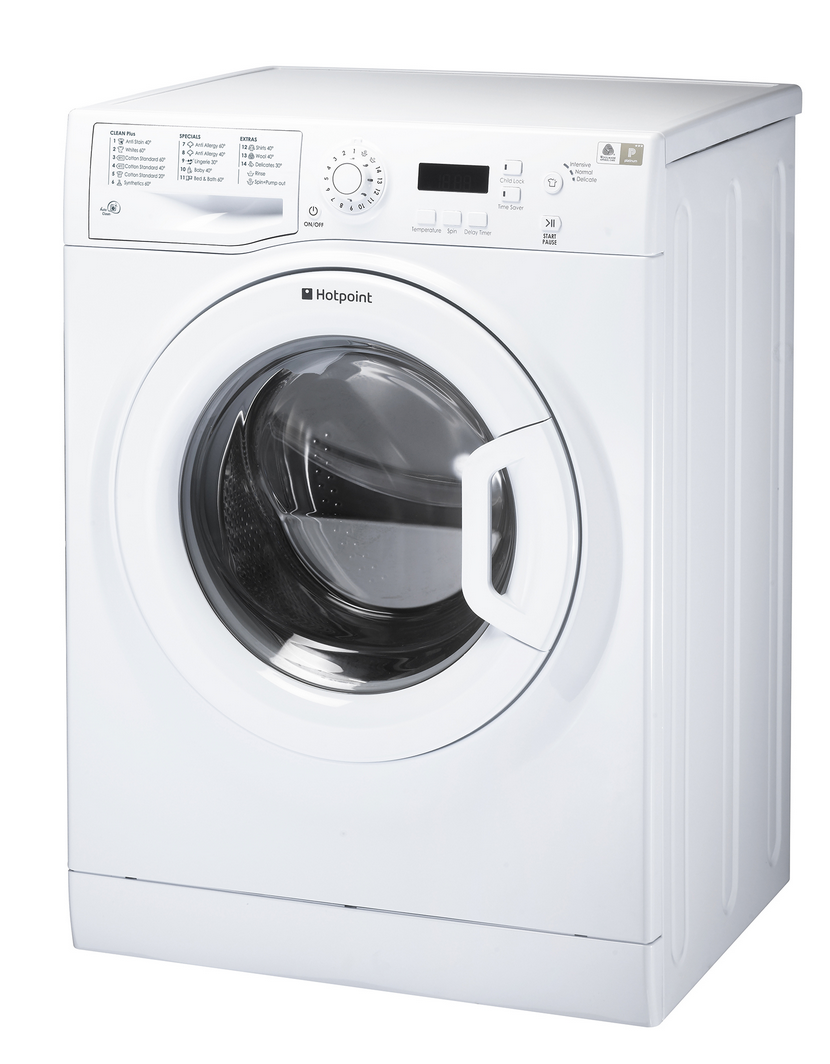 With a 1200rpm variable spin speed and 6Kg wash load capacity that could hold up to 30 adult t-shirts, doing your everyday washing won't be a problem, with room for the towel and linen washes too.
Dimensions: W59.5cm x D42.5cm x H85.0cm
Programmes
Designed to make laundry day as stress-free as possible, this washing machine has various wash programmes that tend to individual loads.
Gentle: With delicate washes, this appliance also has Bed & Bath and Baby cycles. These washes carefully handle your laundry for softness that's crucial for baby's skin as well as linens and towels.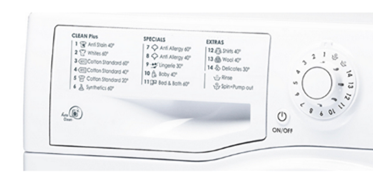 Ideal for those with allergies
Awarded the Allergy UK Seal of Approval, the Anti-Allergy programmes are perfect if someone in the house has sensitive skin or allergies. It has a 60 minute wash phase and combines higher temperatures and extra rinses to neutralise and remove 99.9% of major allergens such as dust mites, pollen and fur.
Removes 20 of the most stubborn stains
Making light of dirty clothes, the anti-stain cycle intelligently manages detergent, water, drum rotation and temperature which removes stubborn stains such as felt tip pen marks and food stains in one wash.
Gentle on woollen clothes
Using extra gentle drum action and low spin speeds, the Woolmark Platinum Care Programme massages sensitive fibres whilst ensuring a thorough and sensitive clean to your woollen clothes.
Easy to use control panel
The crisp white of the washing machine and the black font makes it easy to read and use the controls.
With the programmes clearly numbered on the left, a clear digital display and a smooth gliding control dial, you'll be able to select a cycle quickly and easily.
Washes when you want it to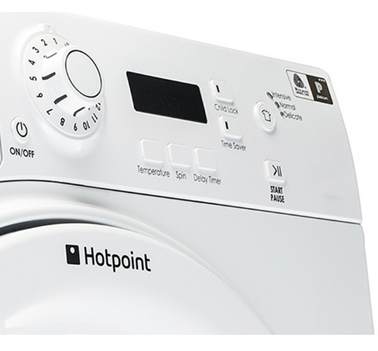 This Hotpoint washing machine comes with time-conscious delay timer that can be set for up to 24 hours later, so that the washing can be done at a convenient time, turning laundry from a chore that fills your schedule to a chore that works for your schedule.
A+ Energy Efficiency Rating
An innovative system of sensors monitor your load and automatically adjusts the energy use, water, time and temperature, delivering the most efficient performance possible.
This washing machine also features a Time Saver button that allows you to choose if you want a load to run fast and more efficiently.
Programmes:
Woolmark Platinum Care
Bed & Bath Cycle
Baby Cycle
Anti-Stain
Anti-Allergy
Anti-Allergy Plus
Anti-Allergy delicates 40°
Delicates
Shirts Programmes
1200 rpm variable spin speed
Anti-Allergy programme
Woolmark Platinum Care programme
A+ Energy Efficiency Rating
Digital control panel
Delay Timer