Integrated Fridge Freezers
Fixed/Door-on-door
A fixed/door-on-door fitting means that the cabinet door is attached and fixed to the fridge door, as shown below left.
There is then just one set of strong hinges used to support the combined door unit, as shown below right.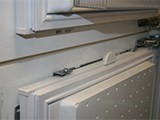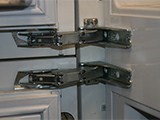 Sliding Door
With a sliding door there is a rail across the inside of the cabinet door, which the fridge door sits in. As the door is opened, the fridge door slides along this rail (below left). This mechanism uses two sets of hinges: one for the furniture door and a separate one for the fridge door, as shown below right.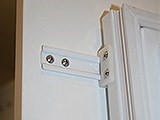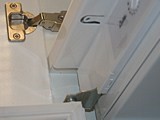 Find out more about the hinges on Integrated Fridge Freezers.
See what our Buying Guide says.
Integrated Fridge Freezers are designed specifically to fit within a tall kitchen unit. Offering a generous capacity without disrupting your kitchens layout and décor; integrated fridge freezers are an ideal choice for both style and practicality.
Integrated Fridge Freezers are also referred to as 'built-in' and in-column' by different manufacturers and companies, but only the phrasing is different; the appliances are the same.
One thing that is not commonly known is that there are two types of integrated fridge freezers, these variations are found within the fitting type. There is a choice of a 'sliding door' or 'fixed door'. It is important that you pick the right one for your needs as they are not transferable.