Integrated Fridge Freezers
Integrated fridge freezers are designed to stand in a tall (column) kitchen unit. They are also commonly referred to as built-in, or even in-column, but they are all the same thing. This type of fridge freezer is ideal for those who want a large appliance, but want to maintain the current style of their kitchen.
It's not widely known, but there are two types of integrated fridge freezers; it's vital to make sure you pick the right one as they are non-transferable. It all depends on the type of fitting - you can either have a sliding door or a hinged door. We've explained this further for you below.
Fixed/Door-on-door
A fixed/door-on-door fitting means that the cabinet door is attached and fixed to the fridge door, as shown below left.
There is then just one set of strong hinges used to support the combined door unit, as shown below right.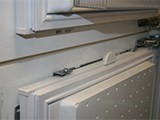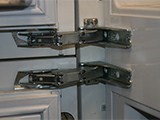 Sliding Door
With a sliding door there is a rail across the inside of the cabinet door, which the fridge door sits in. As the door is opened, the fridge door slides along this rail (below left). This mechanism uses two sets of hinges: one for the furniture door and a separate one for the fridge door, as shown below right.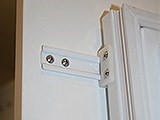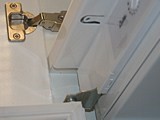 A+ Energy Efficiency
Defrost Method Manual
Width: 54cm

A+ Energy Efficiency
Defrost Method Frost Free
Width: 54cm

A+ Energy Efficiency
Defrost Method Frost Free
Width: 54cm

A+ Energy Efficiency
Defrost Method Frost Free
Width: 54cm

A+ Energy Efficiency
Defrost Method Frost Free
Width: 54cm

A+ Energy Efficiency
Defrost Method Frost Free
Width: 55.5cm

A+ Energy Efficiency
Defrost Method Frost Free
Width: 54cm

A+ Energy Efficiency
Defrost Method Manual
Width: 58cm

A+ Energy Efficiency
Defrost Method Frost Free
Width: 54cm

A+ Energy Efficiency
Defrost Method Frost Free
Width: 54cm

A+ Energy Efficiency
Defrost Method Manual
Width: 55cm

A+ Energy Efficiency
Defrost Method Manual
Width: 54cm