Integrated Fridges
Fixed/Door-on-door
A fixed/door-on-door fitting means that the cabinet door is attached and fixed to the fridge door, as shown below left.
There is then just one set of strong hinges used to support the combined door unit, as shown below right.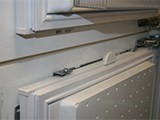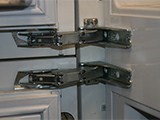 Sliding Door
With a sliding door there is a rail across the inside of the cabinet door, which the fridge door sits in. As the door is opened, the fridge door slides along this rail (below left). This mechanism uses two sets of hinges: one for the furniture door and a separate one for the fridge door, as shown below right.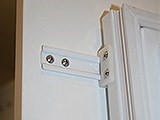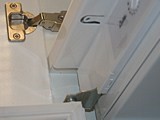 We have a diverse collection of integrated fridges to fulfil each individual need. From soft closing systems to touch controls, our sophisticated selection will ensure that you get what you wish for your kitchen.
Integrated Fridges are ideal for keeping the design of your kitchen intact; a cupboard door can be attached to the front of the appliance creating a sleek, seamless look.