Product Information
Nothing's worse than slaving over a hot stove making a delicious meal, only for it to go cold within minutes of it hitting people's plates. Warming plates and dishes to 60°C, food will stay warmer for longer with the addition of the AEG stainless steel high warming drawer.
Dimensions: (H) 295mm x (W) 594mm x (D) 535mm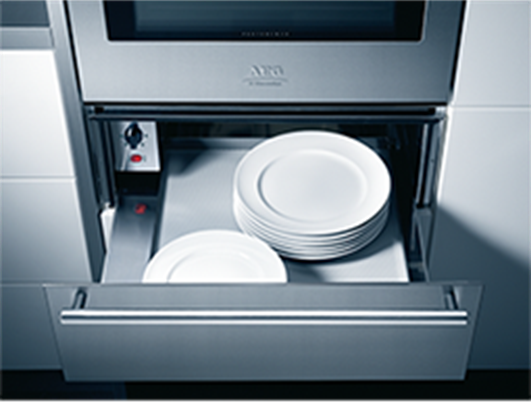 KEEP DISHES AND PLATES WARM
We don't always have room in the oven to keep plates warm, especially if you're making a meal with more dishes. Sometimes it's too hot to keep plates in the main oven. With the AEG warming drawer tucked under your oven, you now have a designated space to warm food without it drying up, warming plates without them cracking.
HIGH PERFORMING HEAT
The high-performance fan circulates the heat evenly around the drawer, warming plates to 60°C so food will stay warmer for longer.
CHOOSE TO PRE-WARM GLASSES AND CUPS
Warm cups and glasses up at a 40°C temperature. Hot liquids will not cool down as quickly when served in pre-warmed cups, which is useful when serving after dinner teas and coffees to a large dinner party.
IDEAL FOR DOUGH RISING
With well circulated warm temperatures, this drawer is an ideal for letting bread rise, so you can cook like a professional baker.
STYLISH DESIGN
With a stainless steel design and a push/pull mechanism for a flush finish, this warming drawer will fit seamlessly and subtly with your kitchen. It will go very well underneath a stainless steel or black oven.
SPACIOUS
With enough space for 12 place settings, this warming drawer has plenty of space for keeping all your plates warm, even when you have the family over! The drawer pulls out completely, giving you easy access to all the contents, with an anti-slip mat to ensure that things stay still whilst you take them out.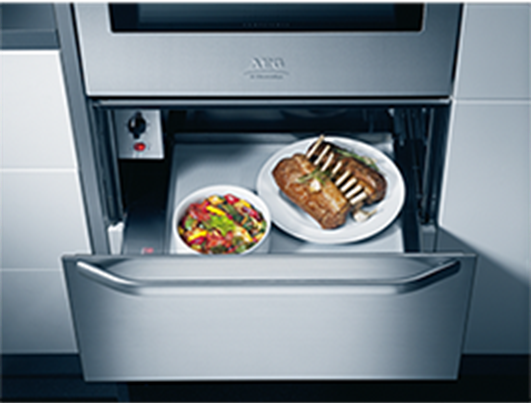 Extra features:
Adjustable thermostat rotary control
On/off switch with LED lamp
Anti-slip mat
Towel rail handle
29cm high warming drawer
Pre-warms plates and dishes at 60°C
Warm up glasses and cups at 40°C
Ideal for dough rising
Stainless steel design