Product Information

This is a graded product. A2 products may have minor visible dents & scuffs. All products are tested and are in good working order.
GRADE A2 - Minor visible dents & scuffs
Dimensions H177 x W54 x D54 cm
Design
Designed to fit beautifully within your kitchen. The Whirlpool ART6500APLUS is an integrated design, neatly tucking away behind kitchen cupboard doors, creating a seamless look. With reversible doors you are able to tailor the fridge freezers design to suit your kitchen.
Capacity
Fridge
Giving you 195 litres of storage space you have plenty of space for a weekly or fortnightly shop. The Whirlpool ART6500APLUS has many storage solutions suiting all your favourite products. With five glass shelves you are able to easily see where everything is and see how much you have. The shelves can all be adjusted to different height positions and are very easy to wipe clean. The fridge door has been optimised to offer you storage for tall bottles and smaller jars with three door balconies. A large single salad crisper is featured at the bottom of the fridge, perfect for locking in the freshness of your fruit and veg.
Freezer
With 80 litres of storage you can store weeks' worth of food. Transparent drawers enable you to effortlessly keep an eye on your food levels and know exactly when it's time to refill your supplies. There are two large compartments for all your frozen goods and a slim top drawer which is perfectly sized for ice trays, pizzas and wraps, smaller delicate foods.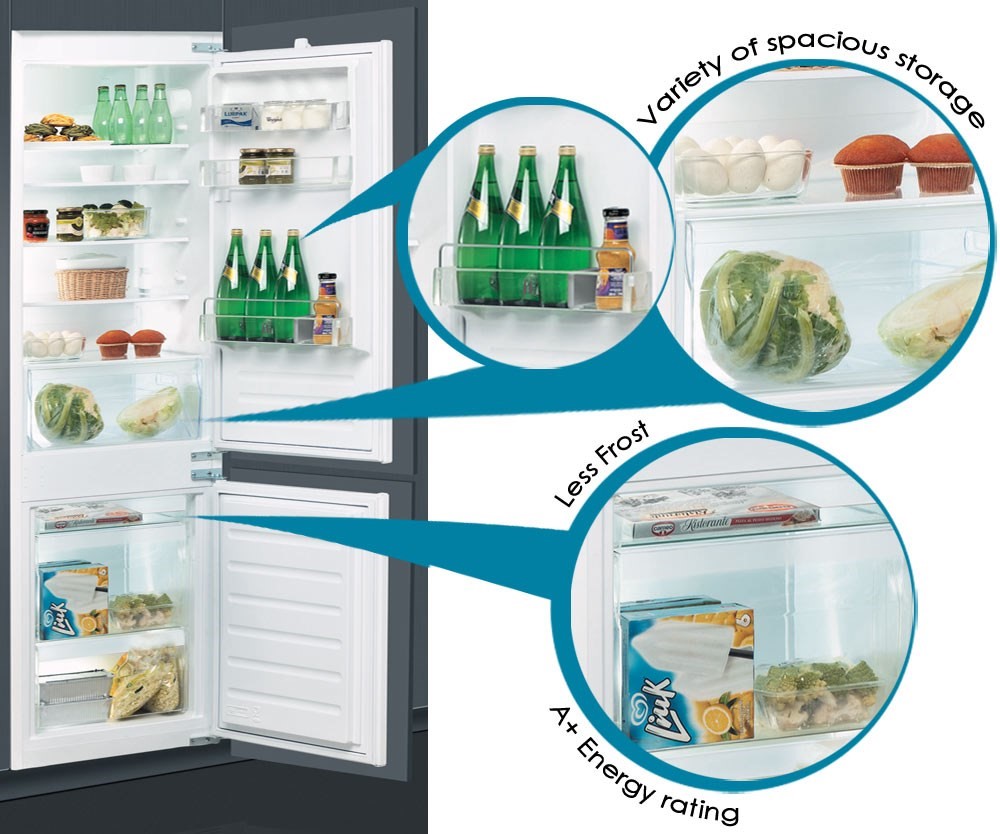 LessFrost Technology
Featuring innovative LessFrost technology you are able to forget about frost formation. A unique evaporator is wrapped around the freezer cavity rather than between the freezer drawers like your average freezer. This ensures a drastic reduction in frost formation, resulting in lowering how often you need to defrost your freezer and also how often you need to clean it.
Energy A+
Rated with an A+ for energy efficiency the Whirlpool ART6500APLUS is a smart choice. Kinder to the environment as well as reducing your energy bills.
Features:
Integrated
Auto defrost fridge
A+ Energy efficiency rating
Fridge capacity: 195L
Freezer capacity: 80L
3 Transparent freezer compartments
5 Glass fridge shelves
1 Salad crisper
Fast freeze technology
LessFrost technology
Reversible door
Annual energy consumption 299kWh
Noise level: 35 dB