Product Information
This is a graded product. A1 products are 'as new' but have been box opened. All A1 products will be fully bubble-wrapped for transportation.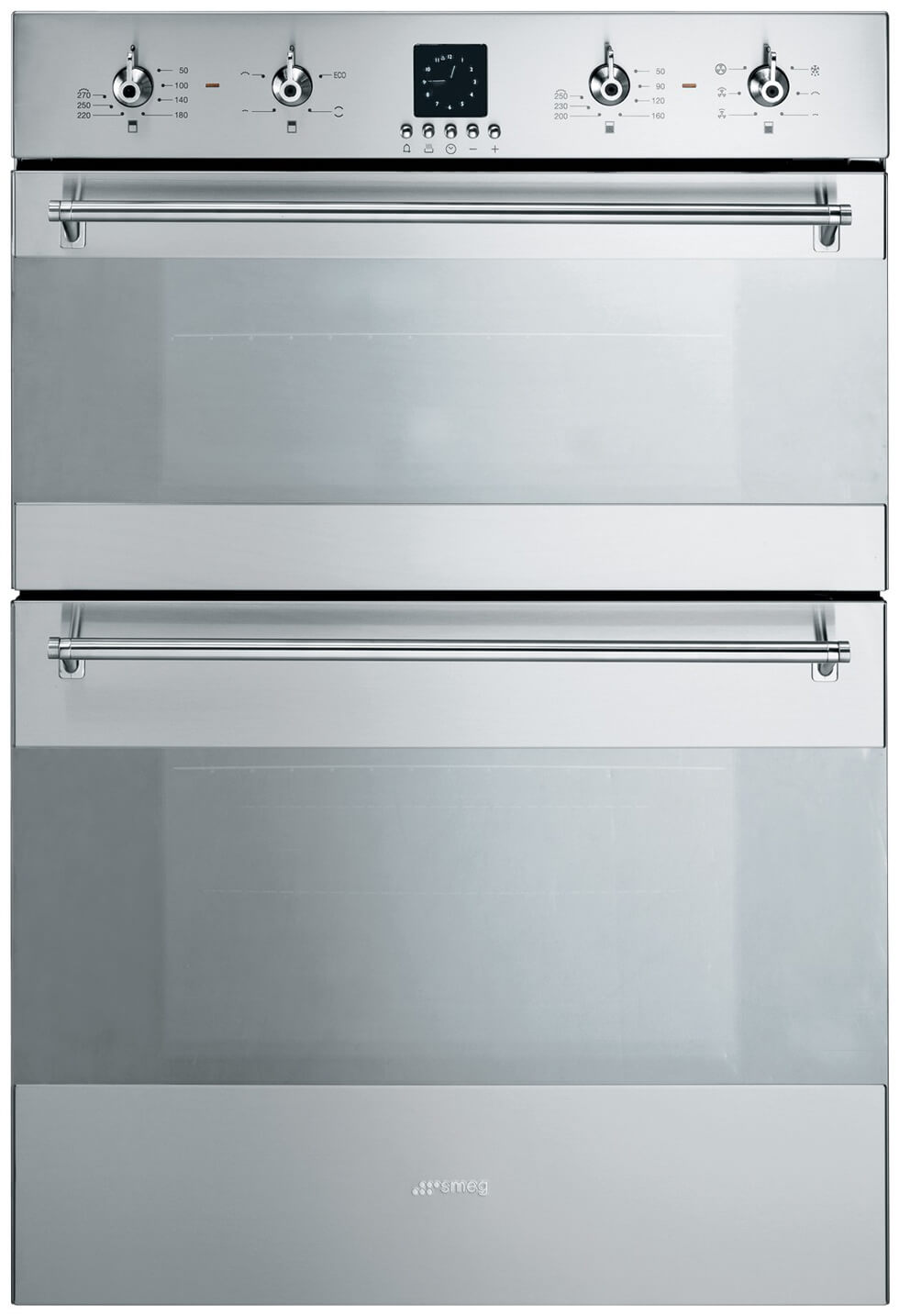 Electric Dual Oven
The Classica oven from smeg is a double electric oven with 8 features in the main oven such as: Circulaire, grill element, half grill and more! The auxiliary oven has four features and is extremely useful for cooking small quantities of food with the eco function.
Fantastic Features
5 cooking levels means that you can cook all the food you need at once, making the dinner time struggle non-existent. Circulaire technology combines the fan and a circular element surrounding it to achieve hot air cooking. This means that if cooking time is less than 20 minutes, there is no need to pre-heat the oven and cooking multiple food items doesn't result in flavour transfer. This excellent feature also reduces cook times and can be used on all foods whilst also using significantly less energy than other functions; it's an innovative solution for all of your cooking needs.
Easy Cleaning
Both ovens feature a triple glazed removable door for increased safety and cleaning ease. Simply remove the doors, clean them and re-attach them, removing the doors also gives you better access to the ovens giving you the ability to clean them more thoroughly. The inner door glass can also be removed to clean in those places that are usually hard to reach. Smeg's ever-clean enamel has been formulated to make oven interiors incredibly easy to maintain, without strenuous elbow grease, meaning you can spend less time cleaning and more time enjoying good food.
Easy-To-Use Contols
This oven has easy-to-use, innovative controls. The easy controls coupled with the handy analogue LED electronic programmer make this oven perfect for anyone to use, whether you're a kitchen veteran or a culinary novice, this oven is sure to cater to your needs.

Manufacturer: Smeg
Colour: Stainless Steel
Lower Main Oven
Energy rating: A-20%
6 functions: full grill, half grill, half grill with fan, defrost, full grill with fan, circulaire
Analogue LED electronic clock/programmer
Air cooling system
Closed door grilling
Triple glazed removable door
Removable inner door glass
Easy clean enamel interior
5 cooking levels
Maxi plus oven gross capacity: 79 litres
Maxi plus oven net capacity: 68 litres
Upper Auxiliary Oven
Energy rating: A
4 functions: conventional, half grill, full grill, ECO preheat
Air cooling system
Closed door grilling
Triple glazed removable door
Removable inner door glass
Variable grill
Easy clean enamel interior
Oven gross capacity: 41 litres
Oven net capacity: 33 litres
30 Amp power supply required