Alleviates
asthma symptoms
Breathe a sigh of relief
Allergens are a common family problem and they are on the increase. Your home may look clean but unbeknown to you hidden away within your carpets and soft furnishings lives microscopic dust that contains these irritating allergens.
The electriQ air purifier can improve the air quality in your home with its latest air purification technologies. Removing virtually all types of common airborne pollutants, allergens and odours the electriQ air purifier will greatly improve allergy sufferer's quality of life.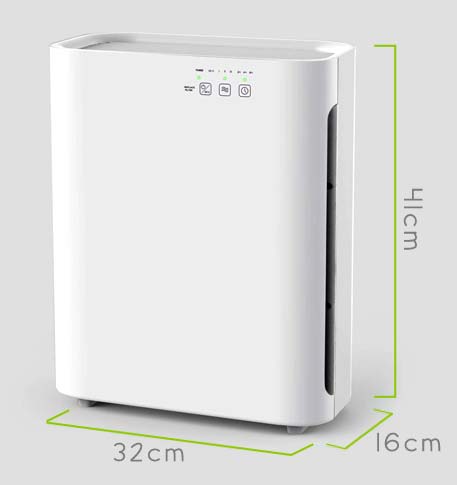 Circulation is key
The more often air within the room passes through the air purifier each hour the cleaner the air will become.
Allergy sufferers with more severe symptoms will get better relief from more frequent air changes.
Three fan speeds enable you to select your preferred level of circulation. A timer function can be set to operate on a 2, 4 or 8 hour cycle.

Advanced 6 stage air cleaning
Equipped with advanced sensor technology the air purifier monitors the air quality of the environment and advises you when to replace the filter.

DUST PRE-FILTER
Removes toxic volatile organic compounds & unpleasant smells.
HEPA FILTER
Removes 99.9 % of airborne particles of 0.25 micrometres or larger.
CHARCOAL FILTER
Removes unpleasant odours & absorbs harmful substances.
PCO
Titanium Dioxide screen to maximise UV effectiveness to kill 99.9% of germs.
UV LIGHT
Ultra-violet light treatment kills airborne bacteria, germs and viruses.
IONISER
Sterilizes and removes mould spores and allergens from the air.
Features:
For rooms up to 20-40 sqm
Sensors indicate when to replace filters
Long-lasting, high-efficiency True HEPA filter - 99.97% collection rate
Plasma Ioniser - removes mould spores and allergens from the air
3 Fan speed settings - Low, medium and High
3 timer modes - 2, 4 and 8 hours
Activated carbon filter traps chemicals, gases and odours
Ultra-violet light destroys 99.9 % of germs
Air-cleaning negative ions are circulated throughout the room
Powerful yet quiet fan for maximum air circulation
Titanium Dioxide photo catalytic oxidation filter effectively reduces chemicals, bacteria and odours
1 Year Warranty
Technical information:
Power consumption: 55 W Max (High)
Maximum Air flow: 236m3/hour
UV: 20uw (254 Nanometers)
Dust Removal Rate: 99.98%
Noise Level (dB): Low (30) Med (40) High (50)
Dimensions:
W x D x H : 32 x 16 x 41 cm
Net Weight: 4.2 Kg