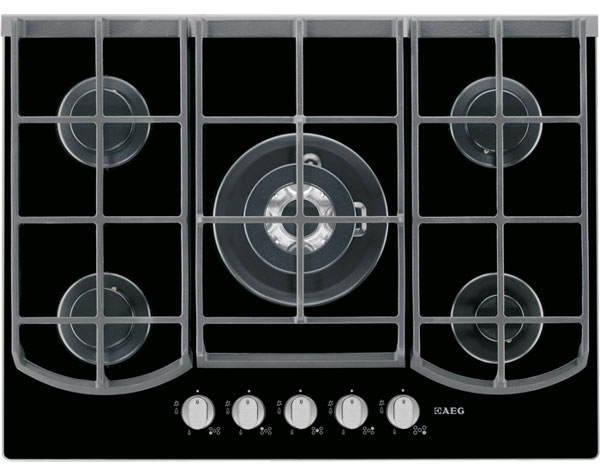 Dimensions: H 45 x W 740 x D 510mm
Cut-out size: W 560 x D 480mm
The AEG HG753430NB hob is perfect for medium to large families, or anyone who loves to host guests. Providing plenty of space, five burners and many additional benefits, cooking on a hob has never been as easy or as safe.
With a professional but extremely modern and sleek design, this hob integrates perfectly into any kitchen, providing the tools for you to enjoy cooking again.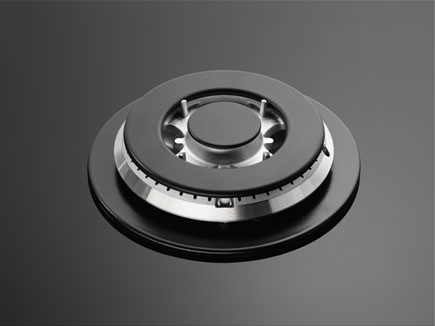 MORE ROOM, BETTER DELIVERY
This AEG hob provides you with plenty of cooking space, spread over five separate burners. In a variety of sizes, you can put each burner to use individually, matching them to the specific job, or all together, helping you to time every dish and meal to perfection.
The central, powerful burner has been developed to provide quick and intense heat. Known simply as a wok burner, this cooking zone offers the ideal conditions for stir-frying and for creating other Asian dishes that require such intense heat. If you don't eat many Asian dishes, don't let this feature put you off. Simply lift the wok rest attachment off of the hob and use this burner as a powerful solution for searing meat and flash-frying.
INTUITIVE FEATURES
Offering a number of intuitive design features, the HG753430NB helps to make cooking more convenient while also keeping the traditional simplicity of a gas hob.
Cast iron pan supports offer an extensive and robust base for your pans while cooking. Their unique design means you can slide pans off the heat for any reason, instead of lifting it away and finding somewhere suitable for it to stand.
The stainless steel rotary controls offer one-handed ignition with one smooth movement. Simply push and twist to light each burner. A red LED light illuminates beneath the control of the active burner, so you can clearly see which is in use. A unique feature, the light will even get brighter as the temperature rises.
SAFER COOKING
Flame failure safety devices acknowledge the current state of each of the flames, acting if there are any issues. By monitoring each burner, this system immediately cuts off the flow of gas if the flame is extinguished, reducing the risk of any serious issues.
The cast iron pan supports provide a stable base for your pots and pans, reducing the risk of falls or spillages while cooking. Their robust design offer support for pans of all sizes, giving you extra peace of mind. With silicon feet, these supports are less likely to move around.
Features
Gas-on-glass design
Easy to keep clean
Centre wok burner surrounded by a variety of different sized burners including a simmer burner
Special LED heat intensity indicators that get brighter the hotter the temperature
Cast iron pan supports, with a removable wok support
Front controls
Automatic integrated ignition
Steel capped rotary controls