Product Information
"It's a great product for a great price. 10 out of 10."
- Anthony from Birmingham
How would this fit in my kitchen?
This built-in double oven is designed to be installed into a tall kitchen cabinet at eye-level. This makes it much easier to access food inside the oven and it will sit level with the edges of the cabinet for a smooth and seamless appearance to your kitchen design.
Please note: This is a built-in appliance and is NOT designed to go under your kitchen counter. If you would like an oven that goes under the kitchen counter (a built-under oven), then visit our range of built-under ovens.
If you're not sure about which oven is right for you, then take a look at The Oven Buying Guide.
Plenty of space
65 litres available in the main oven, and 35 litres available in the top oven makes for a valuable 100 litres of cooking space.
Flexible shelf positions open the oven up to endless cooking possibilities no matter the meal. This capacity will also work for smaller meals as well as larger dinners with room to heat plates or batch baking.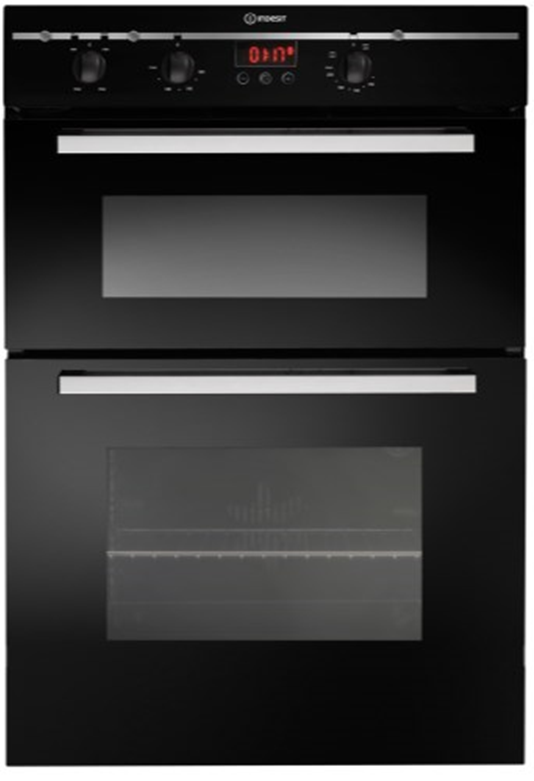 Cook the way you want
Electric fan oven:With the fan giving off a consistent temperature, the main electric fan oven can cook quickly and efficiently.
Defrost function: This built in oven comes with a defrost feature that will thaw your food fast and hygienically, kick starting food preparation.
Twin variable grill: Whether it's a quick snack or a dish, you can now provide healthier and different meals at the dinner table!
Electric conventional oven: If you're a large household or you're cooking for a crowd, a top oven can take the heat off by giving you extra cooking space.
Programme at the push of a button
With one timer setting designed to alert you when the programme ends, and one setting designed to start and stop the oven after a set time, you can cook to your schedule with the programmable timer.
Easy to clean
Stay clean liners absorb all the oven grease and fat for you! Using catalytic technology, the oven breaks down grease that has gathered on the liners, making cleaning a quick breeze.
You can remove the inner door glass to give it a good wipe, ensuring a thorough clean.
Energy Efficient
The double glazed window door and interior light mean you don't have to open the door consistently to check on the food, saving you money on energy bills and earning this oven a A/A energy rating.
For peace of mind the Indesit FIMD23BKS comes with a 1 year labour and 5 year parts manufacturer warranty!
Built in double oven
Modern and minimal design
Electric fan oven
Twin variable grill
Fully programmable timer
Stay clean liners