Product Information
Save time and money with this powerful, yet economical dishwasher. Thanks to its ample storage space, clever features and impressive A+ energy rating, you can enjoy impressive results in only one wash - thus saving you money on your energy bills and water consumption.
Fitted with aqua stock inlet hose
How much can it hold?
With a large 14 place settings capacity, this high performance dishwasher offers plenty of storage space for a medium-large family. The height adjustable upper baskets allow for more effective loading, even for larger items, so you can wash everything all in one go..
Breakdown
1. Upper rack
2. Upper spray arm
3. Tip-up dispensers
4. Rack height adjuster
5. Lower rack
6. Lower spray arm
7. Washing filter
8. Salt dispenser
9. Detergent dispenser and rinse-aid dispenser
10. Data plate
What programmes are there?
There are 4 wash programmes for you to choose from. Simply select the cycle via the control panel tucked in the top of the dishwasher door and leave it to do the rest for you:
Control Panel
a. Off/On/Reset
b. Select wash cycle
c. Eco Wash
d. Intensive Wash
e. Normal Wash
f. Soak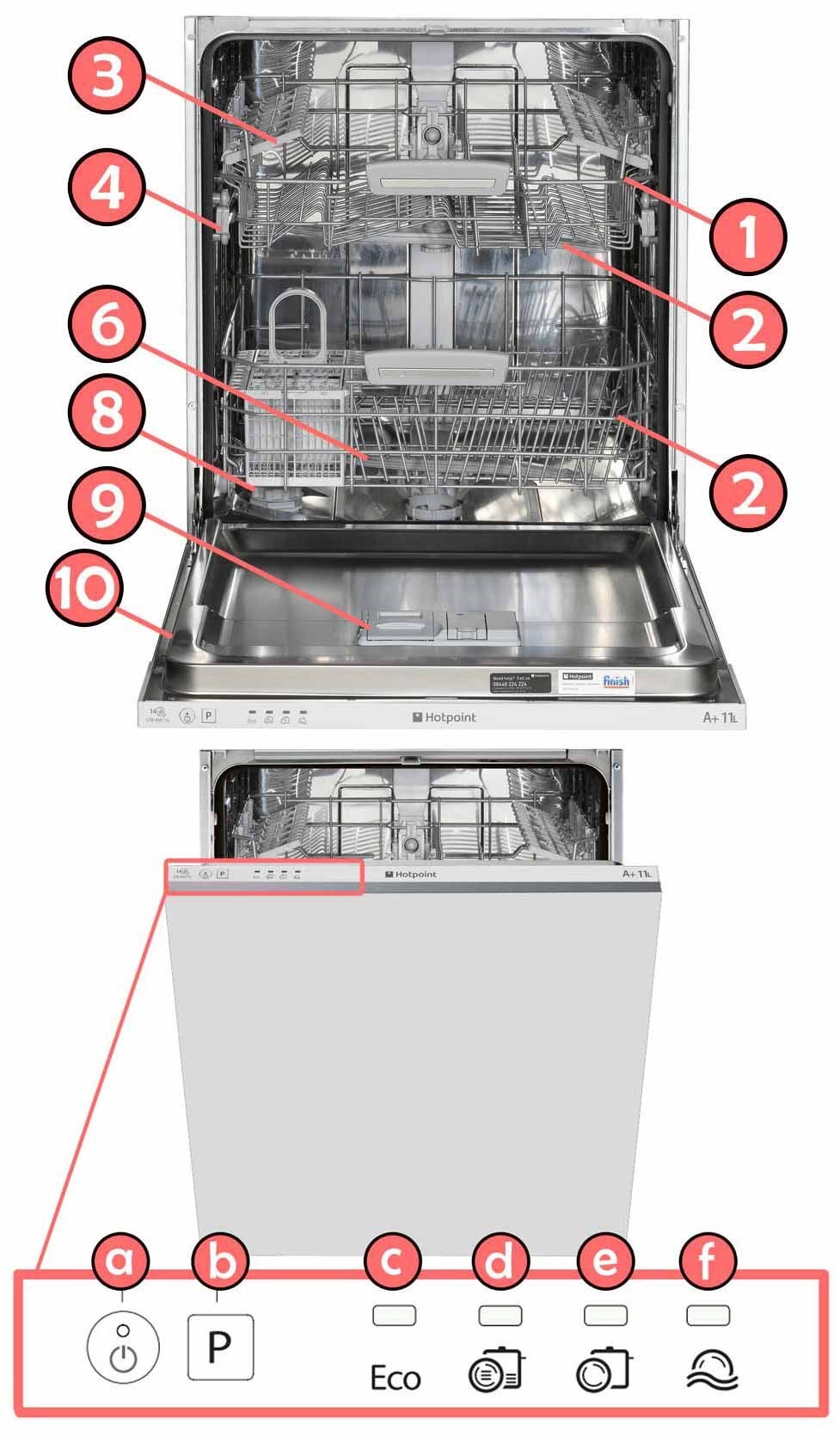 PERFORMANCE
14 place setting capacity
Energy efficiency class : A+
Washing Efficiency Class : A
Energy, Washing, Drying Efficiency Class : A
Standard Cycle water consumption (lt) : 11.0
Programmes : 4
Eco
Intensive
Normal
Soak
Sensor System : Yes
Place settings : 14
Drying system : Residual Drying
Washing temperatures (°C) : 40.70
Noise level (dB) : 46
FUNCTIONS
Water stop
Salt refill indicator light
Hidden heating element
USER INTERFACE
Programme and wash phase indicator lights
DIMENSIONS
Height (cm) : 82.0
Width (cm) : 59.5
Depth (cm) : 57.0
Please note: This dishwasher is fitted with an Aqua Stop Inlet Hose