Product Information
"Stylish, easy to clean, easy to use"
- Gill from Billingshurst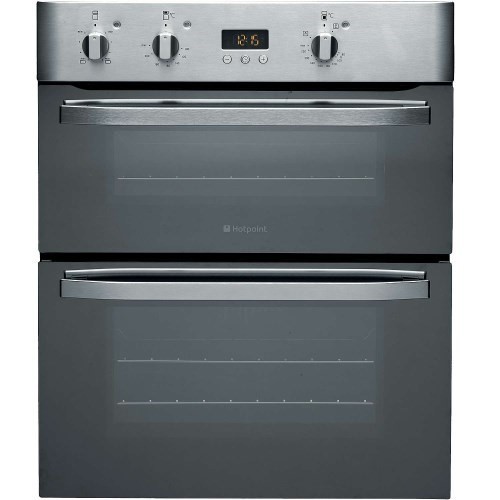 How will this fit into my kitchen?
This electric oven is a built-under oven so it has been designed to go under your countertop, so measure your space and kitchen carefully to ensure it fits before you buy:
H88 cm x W59.7 x D57.8 cm (Height includes the feet)
With a mirror design and stainless steel finish, this built under double oven will revitalise and modernise your kitchen.
Please note: This is a built-under appliance and is NOT designed to go above the counter. If you would like an oven that goes above the kitchen counter (a built-in oven), then visit our range of built-in ovens.
Capacity
With a capacity of 83 litres, this built in oven is ideal for medium sized households, with 59 litres in the main oven and 32 litres in the second oven. Perfect for family meals or larger dinner parties!
This may seem like a lot of space to clean, but this oven has removable inner door glass and an enamel interior making cleaning a breeze!
5 cooking functions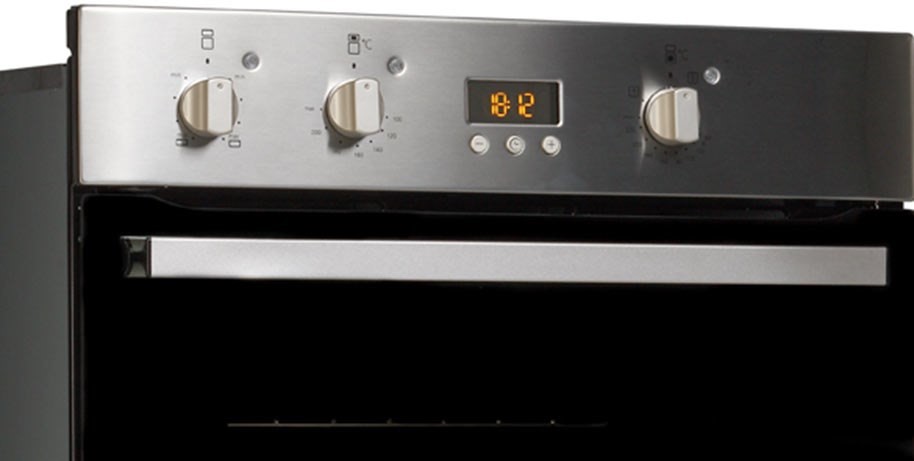 1. Defrost function
Defrosting your food hygienically and quickly, this electric fan oven circulates air around your frozen foods so you don't have to leave thawing food on your countertop.
2. Slow cook function
Keeping food at a constant 90° temperature, meat will fall off the bone with the slow cook feature. You can also use this function for keeping food or plates warm.
3. Electric fan oven
Keeping a consistent and even temperature the main electric fan oven reduces cooking times by 20%, saving you time in the kitchen and money on the energy bills.
4. Variable Grill
This integrated oven comes with a grill that gives you control over the texture and quality of your food.
5. Conventional oven
This function in the top oven will help take the load with larger meals and is also ideal for warming plates!

Keeping cool
With a double glazed window and a cooling fan keeping the exterior cool, you won't run the risk of touching hot glass during or after cooking.
Electronic programmable timer
The electronic programmable timer can get cooking to begin and end at a certain time, leaving you free to do other things.
Energy information:
Connected load (W): 4800
Fuse size (A): 20 A
Voltage (V): 230-240
Frequency (Hz): 50/60
Without Plug
This double oven has no plug and must be connected to a double pole control switch with a minimum rating of 32 amps. If a hob is fitted next to the oven, you must have a double pole control switch of 45 amp to feed both units separately. Please make sure that your electricity supply corresponds with the voltage for this oven (230-240V)
Five function electric built under double oven
Ideal for families with a large 59 L main oven
Add a crisp golden finish with the handy 32L top oven with grill
Stainless steel and mirror design
83 litre capacity
Energy efficient double glazed door
Electronic programmable timer
Slow cook function keeps food at 90 degrees
Energy rating B/B
H88 cm x W59.7 x D57.8 cm
PLEASE NOTE: This is a built under double oven that should be installed under a worktop.