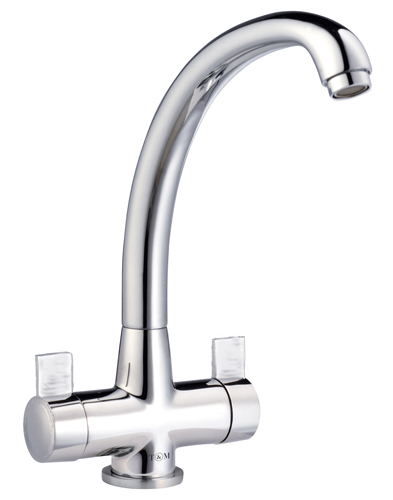 A classic design the Bristol monobloc kitchen tap from Taylor & Moore suits a variety of kitchen designs. Made with brass components and a polished chrome finish the tap is stylish as well as highly durable. The Bristol tap is controlled by twin dials and is suitable for low and high pressure systems.

- Twin dial kitchen tap
- Made using high grade brass internals
- Finished in high quality polished chrome
- Swivel spout makes it ideal for 1.5 and double bowl sinks
- Quater turn twin dial handles, controls temperature & water pressure
- Aerator mixes air with water to maintain water pressure, providing better water efficiency
- Ceramic disc technology provides longer life & water tight seal
- Suitable for high & low water pressure systems
(from 0.1 to 16 Bar)
- WRAS approved high quality components
- Deck mounted
- Supplied with fittings and flexible tailpipes for easy installation
- Installation manual included
- 5 year guarantee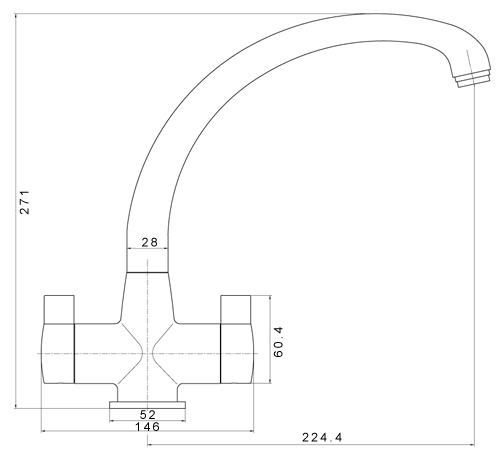 Dimensions: H271 x W52 mm
Projection: 224.4 mm
Everything you need is included for easy installation
Tap
Flexible pipes
Fittings
Installation manual
Installation
Installation should be completed in accordance with valid local building and plumbing regulations. If you are unsure about installing the tap yourself, we would advise to contact a professional.
Care instructions
Simply wipe clean with a soft, damp cloth. Mild washing-up detergent and soap can be used if needed. Dry with a clean cloth. Do not clean using abrasives or steel wool. Never use detergent that is sour, calcium-dissolving or contains alcohol.
Feature Summary:
Twin dial kitchen tap
Made using high grade brass internals
Finished in high quality polished chrome
Swivel spout makes it ideal for 1.5 and double bowl sinks
Quater turn twin dial handles, controls temperature & water pressure
Aerator mixes air with water to maintain water pressure, providing better water efficiency
Ceramic disc technology provides longer life & water tight seal
Suitable for high & low water pressure systems (from 0.1 to 16 Bar)
WRAS approved high quality components
Deck mountable
Supplied with fittings and flexible tailpipes for easy installation
Installation manual included
5 year guarantee