MAKE YOUR OWN HEALTHY SNACKS
From healthy snacks to dried herbs, the Dehydrator from electriQ is the perfect addition to any kitchen.
Experiment with creating your own healthy snacks, beef jerky, herbs or even your own pasta, all in the comfort of the home. Whether you are following a raw meat diet or you are just conscious about what you eat, the Dehydrator gives you the opportunity to try your hand at creating some amazing, delicious snacks.
With a huge amount of storage space, spread over six individual shelves, the Dehydrator gives you plenty of room to dehydrate a wide range of foods at once. It fits perfectly on the worktop and does not need to be disassembled like most of the dehydrators.
Many dehydrators give you a maximum timer of 24 hours, but this offering from electriQ lets you dehydrate your food for up to 48 hours! Experiment with more recipes than ever before with this extended timer. This dehydrator has been built for strong commercial operation while compliments any domestic kitchen.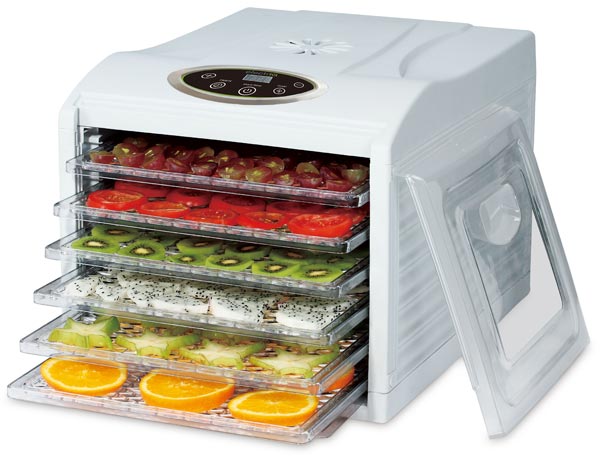 WHY DEHYDRATE?
Dehydration is a fantastic way of creating healthy snacks and treats at home. By dehydrating your own food, the results last for longer without any need to add any preservatives, sugar or salt. Start out with fresh goods and enjoy the results for longer.
Perfect for creating snacks for your break at work, food to keep you going when camping or simply to try something new at home, the Dehydrator is versatile and lets you create wonderful results.
HOW DOES IT WORK?
The electriQ Dehydrator passes warm air over each shelf, producing consistent dehydrating on every level. This unique way of drying heats air to your chosen temperature before simultaneously passing it over each of the trays for even results. The moisture is vented out of the Dehydrator to extend the shelf life of your products.
Choose a temperature of between 35°C and 70°C to suit the product you are dehydrating, select a time of up to an huge 48 hours and you are ready to go.
The electriQ Dehydrator features a handy guillotine style door, meaning you check on products on the bottom shelves without needing to dismantle the whole unit, unlike most other dehydrators.
By dehydrating food, the moisture is removed but enzymes remain intact. This means your results are packed full of nutrients and flavours, producing a really healthy snack.

WHAT CAN I DEHYDRATE?
There are no limits when it comes to dehydrating food. As long as it is fresh and can be enjoyed raw, you are free to experiment to discover new sensations.
FRUIT & VEG
Dehydrating fruit and veg locks in all of the benefits you'd expect from eating them fresh, but with added portability and convenience when you are out and about. Create raisins from grapes or prunes from plums for deliciously fruity snacks, or dehydrate sliced beetroot, carrots and sweet potato for healthier crisps.
This dehydrator is perfect for making fruit leather, so you can send your kids to school with a tasty, homemade fruit winder in their packed lunch, knowing exactly what was used to make it.
Kale chips can easily be made in the Dehydrator and provide an excellent source of nutrients. They're low in calories and fat and are extremely tasty.
MEAT & FISH
Try your hand at making your own beef jerky. Cut into thin strips and add to the dehydrator. For a different taste, try adding a dash of soy or Worcestershire sauce. Experiment with different meats and fish.
HERBS
The cost of buying dried herbs can soon build up, but drying your own can help to save you some cash. Grow fresh herbs in the garden or kitchen window, pick the leaves and dehydrate them. Perfect for recipes, you will even have an endless supply!
SEEDS & GRAINS
Seeds and grains are ideal for use when cooking and baking, or even to add to salads or eat as a snack. By drying your own, items including grain, wheat and rice will last for over 30 years.
Features
Dehydrator with 6 shelves
Shelves slide out for easy cleaning, no need to build or dismantle like standard dehydrators
Complete with nutrition guidelines and recipes
Dehydrates fruit, vegetables, meat, fish, herbs, grains, flowers, plants and more
Horizontal air-flow technology evenly dries out food on each level
Adjustable temperature between 35°C and 70° for the best results each time
Adjustable timer and accurate temperature control for perfect results
Commercial built for consistent results
Produces healthy results for snacks, seasoning and more
Retains nutrients and flavours
Trays are dishwasher safe on the top shelf
Dimensions: Height - 31.5cm x Width - 34.5cm x Depth - 45cm
Weight - 5.35