Product Information
DIMENSIONS: H 51 x W 592 x D 522mm
CUT OUT: W 560 x D 490mm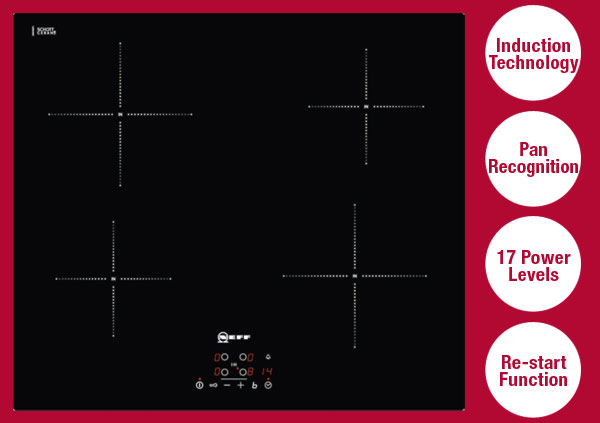 Stylish, sleek and simplistic, the Neff T40B30X2 induction hob provides the perfect solution to your cooking needs. With a frameless design, this overall modern appliance blends effortlessly into any kitchen style.
Four spacious cooking zones help you to prepare more at once while a number of safety features make using this hob extremely easy and risk free. Using induction technology, the surface does not get truly hot, providing a safer environment for cooking.
TOUCH CONTROLS
Precisely adjust the temperature level for each cooking zone at the touch of a finger. Each offering 17 heat levels, you can tailor each zone to suit the dish you are cooking. Individual digital displays make choosing the perfect conditions quick and easy, while keeping you in full control over your cooking.
Make sure everything is cooked for the perfect time using the integrated timer. Providing an audible alert, you can be sure every item is cooked to perfection, reducing the risk of any overcooking or burning.
SAFE OPERATION
Prevent any accidental changes in temperature during cooking by using the integrated control panel lock system. Simply press and hold the lock button to avoid the temperature being adjusted and food being overcooked.
Although the hob doesn't get truly hot, residual heat can make the surface hot beneath the pans during use. Two stage residual heat indicators monitor temperature levels, illuminating when the surface becomes unsafe to touch. This light remains lit until the surface has cooled and can safely be touched, perfect for cleaning.
With the ability to tell the difference between pans and cutlery, if you leave a fork laid on one of the cooking zones, it won't get hot.
The re-start function is great if you need to leave the kitchen for any reason. Activate this function and the hob will power off, effectively pausing your cooking. When you return, press the button again and your cooking zones will resume exactly where they left off.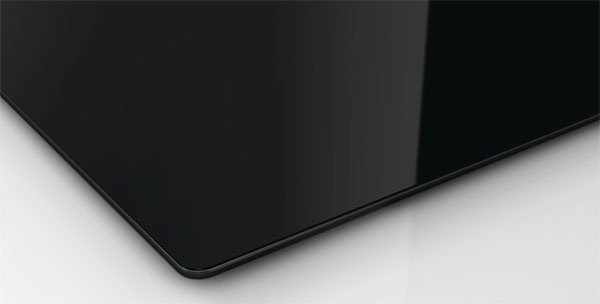 CLEANING MADE EASY
It is inevitable that you'll get splashes from pans or spills from over boiling on your hob, but cleaning these from the T40B30X2 could not be easier.
The ultra-smooth surface means these can be wiped away in no time and, as this hob doesn't get truly hot, there is less chance of any splashes burning to the surface. The frameless design and distinct lack of buttons and dials means there is nowhere for dirt and grease to accumulate, making cleaning a quick and easy task.
FEATURES
Electronic control
Power boost for all induction zones
LED display for each zone
LED timer for each zone with switch off function and acoustic signal
Automatic pan recognition
Power management function
ReStart function
QuickStart function
4 zone induction hob
2 stage residual heat indicators
Control panel lock
Safety cut out facility
592 mm wide
Frameless design
Touch control