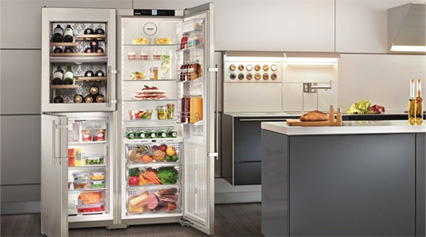 European manufacturer Liebherr boasts an impressive 67 year history in manufacturing premium refrigeration for both domestic and commercial applications.
Promising precision, quality and cutting edge technology, Liebherr are European market leaders in food storage, with design led products that set the standard in food storage capacity, food preservation and energy consumption.
Why choose Liebherr?

Liebherr use BioFresh technology to retain the vitamins, aroma and appetising appearance of fresh food for up to three times longer than a conventional fridge.

You never have to worry about defrosting again! SmartFrost from Liebherr provides fan-assisted, rapid, frost-free freezing for the safe and long-term storage of food.

Liebherr's energy-efficient products will cost you less to run, contribute to savings on your energy bill and help you protect the environment.