Find the right Air Conditioner for you
Air conditioners come in a range of sizes, designed to cool different volumes of air. The rating of an air conditioner is measured in BTUs, and you need to know how many BTUs will be required to cool your room. Below is a chart which will tell you the BTUs required for different sizes of rooms. Simply work out how big your room is (measure the length of your room and multiply it by the width) and then you will know roughly how many BTUs your air conditioner requires.
How do I know what size air conditioner I need?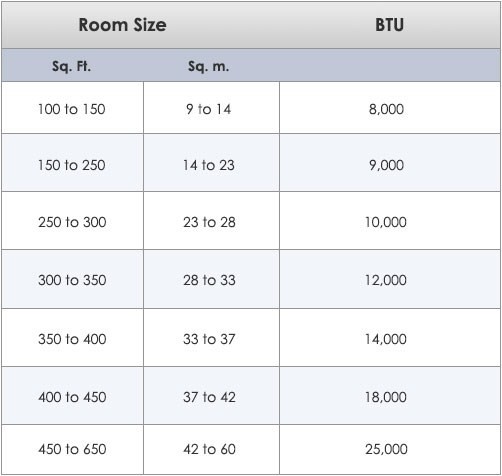 1 BTU is the amount of heat required to raise the temperature of one pound of liquid water by one degree from 60° to 61° Fahrenheit at a constant pressure of one atmosphere. As a general rule we advise you to buy an Air Conditioner with a minimum 7,000BTUs as this is the minimum required to cool a small room (18sq/m) on a hot day. Medium rooms (24sq/m) need around 10,000BTUs and larger rooms and office spaces (36sq/m) require around 15,000BTUs.