Product Information
DIMENSIONS: H 595 x W 595 x D 575mm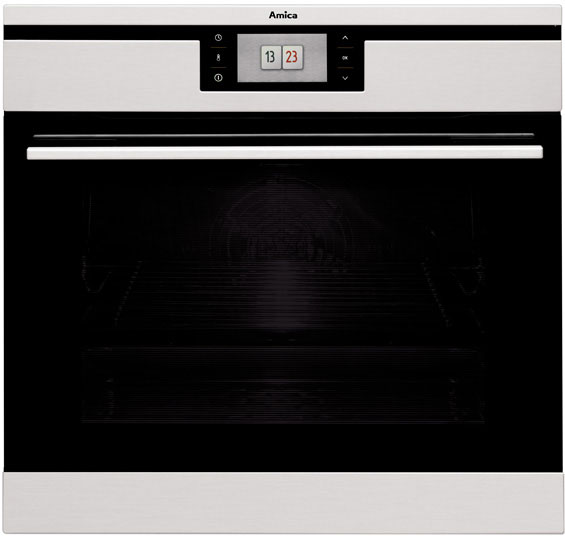 Taking home cooking to the next level and beyond, the Amica Platinum Multifunction Oven offers a number of features, opening you up to a world of possibilities. From the unique rotisserie feature to the SuperGrill, cooking will never be the same again.
Built into your unit, you are given amazing convenience from a stylish looking addition to any kitchen.
COOKING FEATURES
Providing the cooking features and abilities accustomed to a standard oven, the Amica Platinum Multifunction Oven takes them further to provide a hub of cooking and baking opportunities.
Featuring a rotisserie, which cooks meat to perfection by using the grill and top heat, a SuperGrill, which provides 2000W of closed door power and a temperature probe, so you can check on your meat's progress, this oven changes the way you cook. 24 cooking programmes offer pre-set preferences to ensure fantastic results from every dish.
Three included roasting trays provide plenty of space for roasting meat, vegetables and more, helping you to prepare bigger meals easily.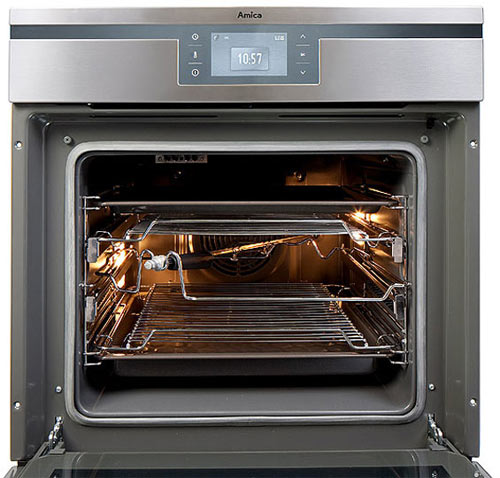 EASY CLEANING
With so many amazing cooking features, cleaning this oven sounds like a struggle, but it isn't. Featuring an enamel lining, you can wipe spillages and splashes away in no time, while the shelf runners can be removed for a more thorough job.
If you find your oven to be in a state too difficult to clean yourself, the Aqualytic Cleaning System takes away all of the scrubbing. By adding half a litre of water into the base of the cavity and selecting the cleaning function, steam is circulated around the oven, loosening stubborn marks so you can simply wipe them away.
USEFUL FEATURES
Offering a large colour touchscreen display, selecting and adjusting your settings is quick, easy and intuitive, providing accurate control. Displaying vital information such as time remaining and temperature, you are in complete control while you cook every dish.
Halogen lights on the sides of the oven cavity provide a clear view of your items as they cook, ensuring you get perfect results every time. I-Touch Free and I-Cool Front technologies ensure the outside of the oven remains cool to touch, even when in use on the highest temperature settings.
Rated A for energy efficiency, this Amica oven provides excellent cooking power and efficiency, keeping energy usage down at the same time.
Features
Large easy to use touchscreen colour display
Three roasting trays included provide plenty of space
Energy Rating A
Dimensions : H 595 x W 595 x D 575mm
I-Cook Timer
24 Recipes
Rapid Preheating
Aqualytic Cleaning System
Easy clean Enamel Interior
I-Touch Free
Rotisserie
Temperature Probe
I-Light Space
I-Cool Front
Wire Shelf
Supergrill
Removable Side Racks