Customers love our two man delivery service, and you can see why!
Fully trained team

4 hour delivery timeslot

Call 30 mins before we arrive

Recycle your old appliance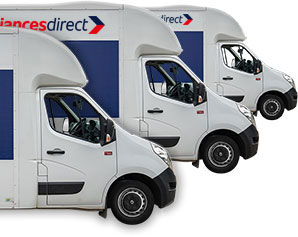 Excellent service and value

Tumble drier was delivered at the time that I chose and the two delivery men were excellent. They unpacked the appliance and moved it to the correct position and took the packaging away.

Delivered when said men were excellent…

Delivered when said men were excellent took packing away with them a credit to company.

See more reviews on Trustpilot »
*Installation, removal, recycling and tidy up are optional extras, available to select in checkout on relevant products.
Yes, you will just need your sales order number which can be found on your invoice to see live information about your order - Track it here
Due to the current COVID-19 outbreak we are offering a reduced range of installation services. We continue to provide complex installations of integrated appliances and wall mounted air-conditioners (details of installations available are shown in the product page), however we are not currently offering wet connections for free-standing washing machine and American style fridges. We apologise for any inconvenience this may cause. We will resume normal service as soon as possible.
Yes, we can take away your old Appliance for recycling for just £19.95. It's very difficult to get appliances taken away by the council or at the tip but with our service we will take it away with us when we delivery your new products. Please click Here for more information about our recycling service
We deliver small sized items to certain countries within mainland Europe. The costs and delivery timescales are as follows:
For delivery to: Andorra, Belgium, Denmark, France, Germany, Italy, Luxembourg, Netherlands, Portugal, Spain and Sweden
The delivery cost is £19.96 and delivery will take up to 10 days from dispatch.
For delivery to: Finland, Gibraltar and Norway
The delivery cost is £39.96 and delivery will take up to 10 days from dispatch.
We understand that sometimes you will not be available to receive your goods. For small appliances our couriers will attempt re-delivery once after which you will be charged for any further re-delivery attempts. For large items requiring two-man delivery, if you have been advised of a delivery date by us and are subsequently not available to accept the goods, a re-delivery charge will be applied.
Nearly all our orders arrive on time and in the same excellent condition they left our warehouse. However items can get knocked about in transit and whilst often it is only the packaging that is damaged, the products themselves are occasionally damaged. Items also occasionally get mis-routed or lost in transit.
If damage is noticed at point of delivery, please sign the driver's delivery sheet as "Damaged".
Please note : All items should be inspected upon delivery and damaged goods should be refused. If you notice damage after the goods are delivered you must report this to us within 48 hours of delivery.