Product Information
DIMENSIONS: H 900-930 x W 600 x D 600mm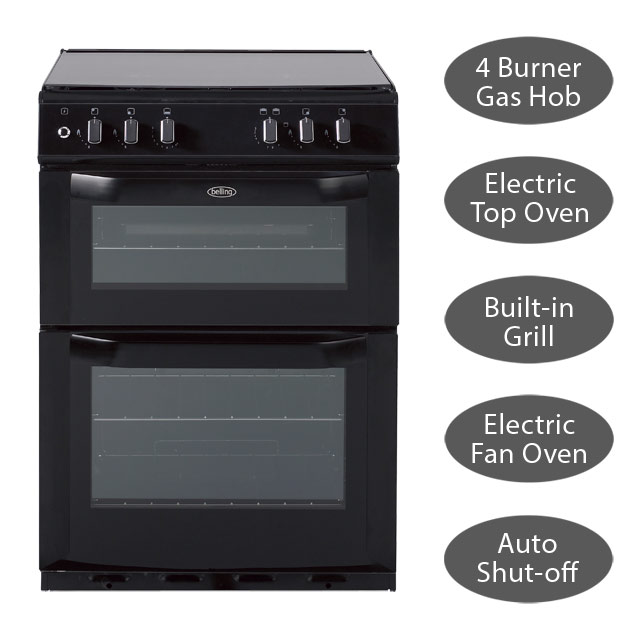 Dual fuel, dual possibilities. The Belling FSDF60DOW cooker offers the best of both cooking possibilities, providing a four burner gas hob and double electric ovens.
With a high energy efficiency rating, the FSDF60DOW delivers fantastic cooking results and possibilities without racking up high energy bills. A programmable timer and different cooking features offer the benefit of preventing any overcooking of items.
CONVENIENT CLEANING AND ADDED SAFETY
Cleaning the FSDF60DOW can be done in a flash. With enamel lining in both cavities, spills, splashes and grease can be wiped away quickly and easily, keeping your oven looking like new for longer. Remove the inner door glass for a more thorough clean.
Flame failure safety devices prevent any excessive flow of gas should any of the flames go out during cooking. By monitoring the status of each burner, the gas is shut off immediately. Cast iron pan supports provide a sturdy and robust base for your pans during cooking, reducing the risk of any spills.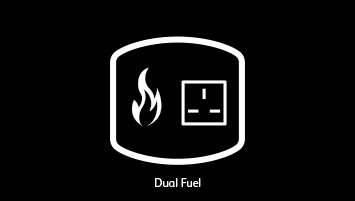 DUAL FUEL
Make the most out of the two cooking methods, each providing different benefits to give you the best results overall.
Gas Hob
Four powerful burners make up the gas hob element of this cooker. Delivering instant heat and precise flame height adjustments, you can produce the perfect environment for preparing pan cooked dishes by frying, boiling or sautéing items. The glass cover protects your hob while it is not in use. Active burners can be extinguished by closing the lid.
Electric Top Oven with Grill
The top oven provides a conventional cooking environment, ideal for smaller items, separate to the main cavity. With such a compact cavity, you will reach your desired temperature quicker, giving you quicker results overall. Use it on its own or alongside the main oven when preparing large meals.
An integrated grill can be used in stages to accommodate a variety of sized items. Separate from the main oven, you can easily grill items while the oven is in use.
Main Electric Fan Oven
Larger in capacity, the main oven provides ample space for preparing a number of dishes simultaneously. The fan element provides even air distribution around the oven, allowing you to cook several items at different levels, without needing to swap them around during cooking.
Perfect for batch baking, you can enjoy an even bake every time.
FEATURES
4 Gas burners
x1 Large (4 KW)
x2 Medium (2.0KW)
x1 Small (1.0KW)
Push Button Ignition
Cast Iron Pan Supports
Flame Safety Device
Glass Lid With Auto Shut Off
Built In Ovens
Main Oven
Fanned Electric Oven
69 Litre Capacity
A Energy Rating
Defrost Function
Easy Clean Enamel
2 Shelves (5 positions)
Removable Shelves
Oven Light
Side Opening Glass Door
Freestanding Cookers
Top Cavity
Conventional Electric Oven (1.3 KW)
Varible 3 stage Electric Grill (0.6/1.7/2.7 KW)
39 Litre Capacity
Easy Clean Enamel
1 Shelf (2 positions)
Drop Down Glass Door