Product Information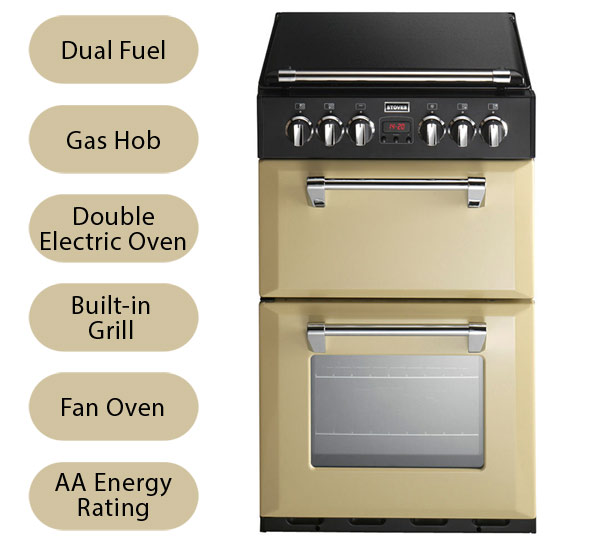 DIMENSIONS: H 900-915 x W 552 x D 600mm
Add a classic touch to your kitchen, with the powerful and efficient 550DFW dual fuel mini range cooker from Stoves. Traditional in design, this range cooker blends effortlessly with any kitchen style, offering plenty of room for preparing bigger meals.
With a four burner gas hob and electric main and top cavities, including grill, you can enjoy the best of both worlds, adding convenience to your kitchen. Brilliant results with lower bills.
DUAL FUEL CAPABILITIES
Providing both gas and electric cooking options, you can enjoy the benefit of both sources, conveniently through the same appliance. The programmable timer makes it easier to ensure every dish is cooked to perfection.
Gas Hob
Delivering instant heat with precise adjustments, the gas hob offers an efficient and powerful cooking option. With four burners, you are provided with plenty of space to cook several items together. The larger, wok burner, is ideal for searing or fast frying items. Providing intensive heat, your wok, pot or pan will reach a higher temperature in less time.
Conventional Oven with Grill
The smaller, top cavity offers conventional electric cooking abilities, ideal for smaller items or when the main oven is in use.
With an integrated grill, this cavity lets you grill items quickly, even while the main oven is being used, something that cannot be done with a single oven. Grill with an open door and adjust the grilling mode for different items. Precise controls let you adjust the temperature to suit your dish while smaller items can be grilled by using only the inner section of the grill.
Main Oven
The large capacity main oven allows you to prepare bigger items, such as roasting meat, with room to spare for other dishes. Fan cooking technology means there will be no transfer of flavour between dishes, so you can even roast a joint of meat and bake a cake side-by-side.
Defrost items using the fan defrost feature. By naturally thawing your food, you receive more hygienic results and can be safe in the knowledge that your items are thoroughly defrosted before using them.
ADDED FEATURES & SAFETY
Enamel lined, both cavities are easy to clean. Wipe away any spills, splashes and grease after each use, keeping this cooker looking just like new. Cast iron pan supports provide a stable support for your pans. Check on your items easily with the halogen light which provides light to the entire cavity.
Flame failure devices stop the flow of gas if a burner is extinguished.
FEATURES
Cast lid
4 Gas burners, including powerful 4 kW wok burner
Cast iron pan supports
Top conventional oven & electric grill
Main fan oven with halogen light
3 Button LED clock & programmer
Easy clean enamel
LPG Convertible (kit available separately)