Product Information
With over 100L of combined cooking space, two multi-functional ovens and an easy to clean ceramic cooktop, the AEG 49176V-MN electric cooker gives you the flexibility to cook a wide range of meals with ease. This large capacity freestanding cooker is perfect for big families and busy kitchens, thanks to the option of cooking different foods at separate temperatures - all at the same time. So, whether you need to roast, poach, boil, bake, grill or oven, this versatile cooker is sure to bring out the inner Heston Blumenthal in you. Plus, it also boasts an A energy rating to help keep your energy bills low.
PRECISE CONTROL
Enjoy full control at your fingertips using the cookers electronic touch panel. The intuitive controls provide quick and accurate operation of both hob and oven functions..
MULTI-COOKWARE ZONES
The hob's four ceramic cooking zones heat up in less than 5 seconds and offer a variety of sizes including a triple zone to accommodate all your specialised pots and pans, so you can always create the perfect professional dish.
PERFECT COOKING RESULTS
Take the guesswork out of cooking meat and poultry with the cookers core temperature sensor and enjoy perfectly cooked food every time. The sensor tells you exactly when your food is cooked all the way through.
EASY CLEANING
The oven uses a cutting-edge Cataluxe® cleaning system which makes cleaning the oven as easy as wiping it with a cloth. When heated, the catalytic liners absorb and oxidise any grease or cooking residue, leaving nothing but fine ash behind to sweep away. The ceramic glass surface of the hob is also very easy to clean thanks to its smooth surface.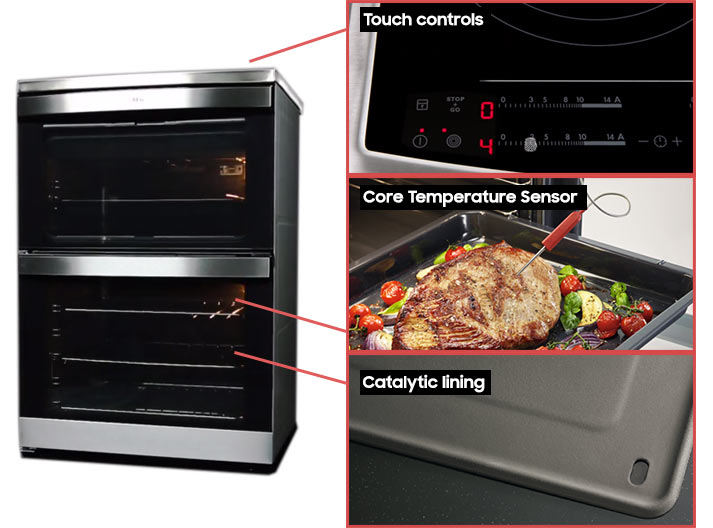 Key Features
MaxiKlasse™ cooker with ceramic hob for perfectly even results
Multi-cookware zone for specialised pots and pans
Rapid-response touch controls for precise heat selection
Core Temperature Sensor for perfect results all the way through
Cataluxe® calatytic cleaning method
Telescopic runners for optimised access to whatever youre cooking
Ceramic Hob
Auto-stop anti-tip chrome shelves
Conventional cooking
Fan controlled defrosting