Product Information
This is a graded product. A1 products are 'as new' but have been box opened. All A1 products will be fully bubble-wrapped for transportation.
GRADE A1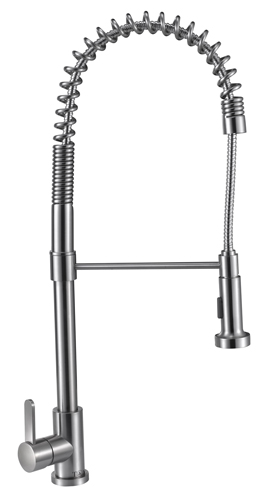 Taylor & Moore's Royal single lever tap presents a contemporary look with its stylish coil neck design. With a stainless steel body and satin finish the Royal tap has a premium design delivering great durability. Featuring a pull out nozzle spray this tap gives better control over water flow. The Royal tap is controlled by a single lever and is suitable for high and low pressure systems.
Features
- Single lever kitchen tap
- Made with durable stainless steel internals
- High quality satin finish
- Single lever handle controls temperature & water pressure
- Flexible pull out nozzle spray with button, more control for harder to reach places
- Aerator mixes air with water to maintain water pressure, providing better water efficiency
- Ceramic disc technology provides longer life & water tight seal
- Suitable for high & low pressure systems (Minimum pressure: 1 Bar)
- WRAS approved high quality components
- Deck mounted
- Supplied with fittings and flexible tailpipes for easy installation
- Installation manual included
- 5 year guarantee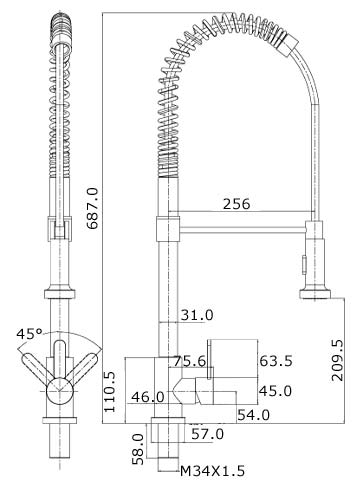 Dimensions: H687 x W57 mm
Height of spout: 209.5 mm
Projection: 256 mm
Everything you need is included for easy installation
Tap
Flexible pipes
Fittings
Installation manual
Installation
Installation should be completed in accordance with valid local building and plumbing regulations. If you are unsure about installing the tap yourself, we would advise to contact a professional.
Care instructions
Simply wipe clean with a soft, damp cloth. Mild washing-up detergent and soap can be used if needed. Dry with a clean cloth. Do not clean using abrasives or steel wool. Never use detergent that is sour, calcium-dissolving or contains alcohol.
Feature Summary:
Single lever spring neck monobloc kitchen tap
WRAS approved high quality components. Ceramic disc technology ensures a water tight seal
High quality satin finish
Flexible pull out nozzle spray with button, more control for harder to reach places
Suitable for high and low pressure systems (Minimum pressure: 1 Bar)
Aerator mixes air with water to maintain water pressure, providing better water efficiency
5 year guarantee
Supplied with fittings and flexible tailpipes for easy installation