Product Information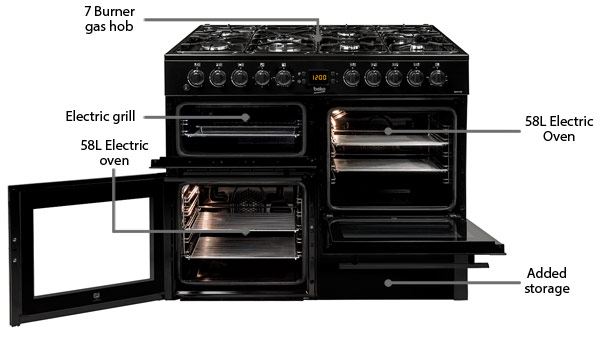 DIMENSIONS:
H 900 x W 1000 x D 600mm
Expand your cooking possibilities with the spacious, powerful and highly efficient double oven range cooker from Beko. Offering both electric and gas cooking capabilities, you can enjoy the best of both worlds, ensuring you enjoy top cooking results from every use.
Perfect for the cooking enthusiast and larger households, this Beko range cooker has a modern look and feel, helping it to fit into any kitchen. An additional compartment in the Beko range cooker offers extra storage, perfect for baking trays
DUAL FUEL
Offering a gas hob, double electric ovens and a separate electric grill, the Beko range cooker gives you the best of both worlds. This cooker helps to make the bigger cooking tasks easier.

GAS HOB
Featuring seven burners and at 100cm wide, the gas hob is extremely spacious so you can cook more together. Varying in size, the burners range from a smaller burner which is ideal for simmering soup, to a high power wok burner which is fantastic for Asian style cooking. Each burner features a gas safety device which stops the flow of gas if the flame goes out.
ELECTRIC DOUBLE OVEN
The two spacious ovens each provide 58L capacities with two shelves each, offering the room to cook more side-by-side. With fan assisted cooking technology, the ovens reach your desired temperature in less time, also providing an even temperature throughout each cavity. Ideal for batch baking and timing items to perfection, you will receive the same results on both shelves.
SEPARATE ELECTRIC GRILL
Giving you the ability to grill items while both ovens are in use, the separate electric grill is great for when it comes to preparing larger meals. Grill meat, fish or even cheese on toast quickly while you prepare your main meal or bake in the main oven cavities.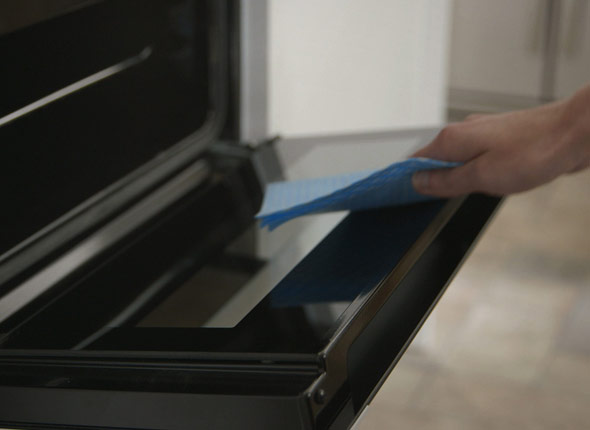 ENERGY EFFICIENT
Rated A for energy efficiency, the Beko range cooker is part of the EcoSmart range. Verified by the Energy Saving Trust, you can save up to 35% more energy compared to a C rated model.
EASY CLEANING
Making cleaning easier, the Beko range cooker includes a number of technologies which prevent the build-up of dirt and grease. The inside glass doors feature innovative Oleophobic nano coating technology which is resistant to grease and dirt and is wiped clean quickly and easily.
The cavities each offer an ultra-smooth enamel lining. Extremely easy to wipe clean, grease and dirt cannot fuse to the surface, giving you the ability to simply wipe clean after each use. The shelf runners are even removable, so you can achieve a more thorough clean.
Key Features
100cm Twin fan oven dual fuel range cooker with separate grill
7 Burner gas hob, including triple crown wok burner
Twin fan ovens
Separate full width grill in top left cavity
Easy clean enamel oven interior with variable shelf positions
5 wire shelves, grill pan with rack and grill pan handle included
Removable inner glass door for easy cleaning
Oven light in both ovens
Height adjustable feet for levelling
Programmable clock and timer