Product Information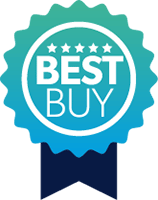 Best Buy
By collaborating with some of the world's greatest brands, we've created specialist Best Buy collections across our most popular product ranges. We will keep them updated, to bring you the best choice, the best price and the best products. And that's a promise.
The stylish Italian designed Ariston with a Brilliant White Fascia E-Combi ONE 24kW Natural Gas/ LPG Condensing Combination Boiler comes with a host of high-end features including the new Stainless Steel Xtratech™ heat exchanger which is able to perform better and more efficiently than ever before and with a unique AUTO function - used to optimise the efficiency of the boiler and heating system. This is one of the few gas boilers on the market that is Energy Saving Trust recommended.
Lightweight and easy to install, the new boiler also has all connections in the same places – enabling an easy retrofit in place of an existing Ariston boiler. Featuring a built in mechanical clock with 24 hrs on/off timer and coming as with £100 worth of Free Accessories this is all you need for typical installation. E-Combi ONE is also compatible with Ariston NET so further advanced features could be added without having to change the boiler.
FREE Pack worth £150: Ariston Standard Horizontal Flue Kit (3318073) LPG Conversion kit and WiFi Sensys Net Controller supplied as standard
Tested and certified by TUV Rheinland you can count on Ariston for safety, quality and usability.

What stands out
HI-TECH, HI-COMFORT
The top of the range E-Combi ONE is the latest generation of Ariston Thermo's condensing combi gas/ LPG boilers, offering heat management with smart connectivity right out of the box and patented stainless steel XtraTech™ heat exchanger.
This is a highly efficient boiler, boasting an ErP A rating and is fully endorsed by the Energy Saving Trust.
With an output rating of 24 kW is suitable for standard 2-5 bedrooms homes. For properties that need a boiler with a higher output the Ariston E-Combi One is also available as a 30kW unit.
Unique 'AUTO' function optimises efficiency of boiler and system
24 KW Combination Condensing Natural Gas / LPG Boiler
Endorsed by the Energy Saving Trust
High quality briliant white fascia
Direct hot water and heat from radiators on the best priced package great for a 2-5 bedrooms house
A+ Rated with WiFi Sensys Net
FREE WiFi Sensys Net
FREE Standard Horizontal Flue Kit worth (3318073)
FREE LPG Conversion Kit
Xtratech stainless steel heat exchanger
High domestic hot water flow rates
Unique 'AUTO' function optimises efficiency of boiler and system
Comfort function
High efficiency pump
1:7 Modulation
Quiet operation starting at 49db
Lightweight: 29 kgs
Frontal pressure Gauge
Built in mechanical clock with 24 hrs on/off timer
Large backlit display
Ariston net compatible
Easy installation and maintenance
Complete with an exceptional 2 year onsite guarantee from Ariston for total peace of mind
The details
XTRATECH STAINLESS STEEL HEAT EXCHANGER
Stainless steel heat exchangers are exceptionally robust and operate well in a wide range of pH values, providing resistance to corrosion.
142% wider waterways with increased efficiency
Wider pipes allow water to pass through the heat exchanger more effectively, with less risk of blockages from debris. This extra width also allows hot water to pass through the heat exchanger quicker.
Better transfer of heat
The enhanced single coil heat exchanger is robust and highly efficient, thanks to an improved condensing surface and increased hydraulic performance. This also allows for constant water speeds and a reduced chance of blockages, ensuring a long lifespan.
Key Features
DHW Flow Rate ( litres per minute ) 10.4
ErP Efficiency: 90%;
ErP: A
Combination Boiler
Fuel Type: Natural Gas / LPG
Central Heating Output: (kW) 24
Manufacturer Product Number: 3301131 / 3318073
Shipping Weight (kg) 29.3
Product Height (mm) 745
Product Width (mm) 400
Product Depth (mm) 385
Warranty ( Years ) 2
Essential Info
Controls: Keys
Display: LED Display
Built in mechanical clock with 24 hrs on/off timer
Standard Horizontal Flue Kit included
Installation Type: Wall Mounted / Vented
A Gas Safe registered engineer must be used to install this appliance. We would advise checking the installers licence number against the Gas Safe Register.