Product Information
Downdraft extractors are ideal for those who either have their hob on an island kitchen unit, or those who simply don't like the look of a traditional cooker hood. This CDA downdraft extractor has a modern minimalist appearance and can be hidden away after use, giving you an extractor that is functional and not obtrusive to your kitchen design.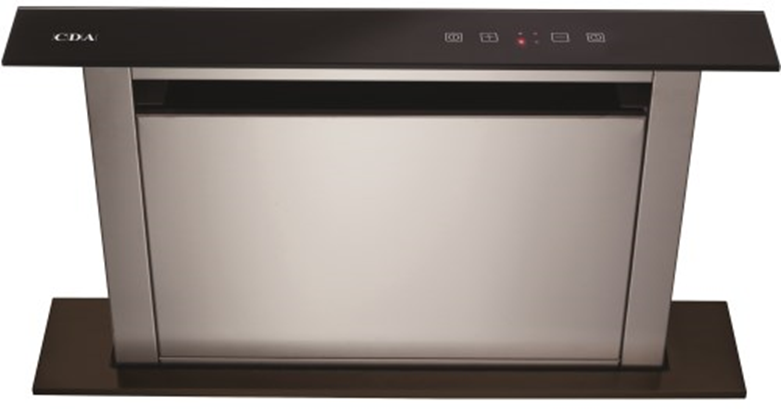 HOW WILL THIS FIT INTO MY KITCHEN?
Downdraft extractors are designed to fit into your kitchen countertop and raise up when in use.
When the extractor is installed behind an electric hob, the minimum distance between the hob and extractor must exceed 50mm. With a gas hob, the minimum distance from any burner to the back of the hob must be 65mm, so measure your available countertop space with the dimensions carefully before ordering:
Dimensions:(H) 740mm x (W) 580mm x (D) 116mm
DUCTED OR RE-CIRCULATING INSTALLATION
This CDA extractor is suitable for different kitchen outlays, as it is able to duct out or recirculate your unwanted cooking odours and steam.
If you decide to duct out, you will need to use a ducting kit, and if you want to recirculate the air from the extractor, you will need to purchase charcoal filters.
4 SPEED EXTRACTION POWER
The CDA downdraft extractor gives you optimum control over the amount of extraction power going to your cooking with 4 speed settings. With the lowest setting extracting 250 m³/hr and the fourth speed jumping up to an intensive speed of 636m³/hr, this extractor can tackle the most light or heavy amounts of cooking steam and grease.
TOUCH CONTROLS
With a smooth and modern glass control panel, it's easy to adjust the downdraft extractor at the touch of a fingertip. Minimal in design, it comes with easy to read control icons that make operation effortless.

10 MINUTE TIMER
While the extractor is running, touching the "Timer" key once will set it to run for a further ten minutes then automatically shut down. This feature is most useful when you finish cooking and need to leave the kitchen unattended whilst you sit down to dinner.
EASY TO LOOK AFTER
Downdraft extractors are smaller than traditional cooker hoods which makes them much easier to maintain. To make it even easier to look after, the aluminium grease filters are dishwasher-safe which saves you cleaning time.
ADDITIONAL INFORMATION
This extractor is certified for use with gas hobs with a rating of 11.3kW or less
Height adjustable
Motor included
EXTRACTION RATES AND NOISE
Extraction rate at first speed: 250 m³/hr
Noise level at first speed: 30 dB(A)
Extraction rate at second speed: 420m³/hr
Noise level at second speed: 40 dB(A)
Extraction rate at third speed: 550m³/hr
Noise level at third speed: 48 dB(A)
Extraction rate at fourth speed: 636m³/hr
Noise level at fourth speed: 69 dB(A)
FILTERS & EXTRACTION
Number of grease filters: 1
Number of charcoal filters (optional): 2
Charcoal filter code: CHA19
Ducting kit: AED61/63/64
Stylish downdraft extractor
4 speed extraction power with intensive setting
Touch controls
10 minute timer
Height adjustable