Product Information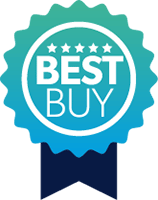 Best Buy
By collaborating with some of the world's greatest brands, we've created specialist Best Buy collections across our most popular product ranges. We will keep them updated, to bring you the best choice, the best price and the best products. And that's a promise.
What stands out
The traditional design looks great in any kitchen, adding a homely feel
Dual fuel, controllability of a gas hob with the even temperature distribution of an electric fan oven
Time your meals to perfection by setting the oven to automatically switch on and off at a preset time
Multi-functional all-in-one design boasts two full fan ovens, a grill and eight gas burners
The eight burners provide plenty of space for all your different pots and pans
The gas supply automatically cuts off if the flame on the hob goes out
Rated A for energy efficiency to help you save money on your energy bills
Includes LPG conversion kit – ideal if you only have access to an LPG gas supply
There's a drawer beneath the oven to store your pots and pans out the way but close at hand
The details
This country-style range cooker has everything you need to create culinary classics, offering plenty of room and flexibility to get creative in the kitchen. It boasts two full fan ovens, a grill and eight gas burners, which makes it ideal for busy family meals.The fan ovens are quick to pre-heat and deliver even heat distribution, circulating hot air across every shelf, so you can enjoy quick and perfectly cooked results every time. There's also a dedicated cavity that houses a separate grill, which is great if the two ovens are in use or you simply need to cook something quickly.
At the top of the cooker, you'll find a generous eight burner gas hob to keep all your pots and pans in place. For added peace of mind, each burner is fitted with a flame failure safety device that automatically cuts off the gas supply if the flame cuts out. There's even a cavity at the bottom right hand corner for storing your pans and trays close at hand but out of sight. Everything is controlled using the knob controls at the front, giving you quick, easy and accurate operation to get the best results. For added convenience, there's a programmable timer on hand that allows you to set the oven to switch off automatically after a certain amount of time to avoid overcooking.
Essential info
Dimensions: W100.3 x H90 x D60cm
Fuel type: Dual
Top oven/grill capacity: 25L
Oven capacity: 2 x 49L
Functions: 2 x full fan ovens, 1 x grill, 8 x burners
Includes: Grill pan and handle set, 6 x wire shelves
More info
Flame failure device for all burners
Upper left cavity: 25L Grill/Oven
Bottom left cavity: 49L Fan Oven
Upper right cavity: 49L Fan Oven
Bottom right cavity: storage compartment
Light in both ovens for clear visibility without disturbing the temperature
Energy efficiency rating: A
Fully programmable digital timer for accurate & precisely timed cooking
Easy to use knob controls with a sleek control panel
Power supply 220-240V~50 Hz
Maximum power 5600W
Burner 1: 1.0 Kw
Burner 2: 1.75 Kw
Burner 3: 1.75 Kw
Burner 4: 3.0 Kw
Burner 5: 1.0 Kw
Burner 6: 1.75 Kw
Burner 7: 1.75 Kw
Burner 8: 3.0 Kw
Weight: 76Kg
Finish: Black
Installation: Requires hardwiring by electrically trained engineer & gas safe engineer