Product Information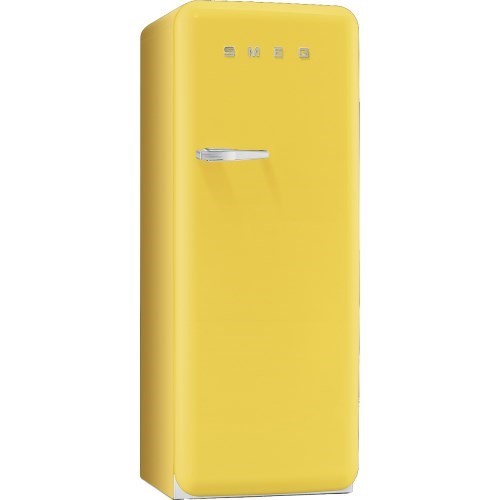 Combining style with cutting-edge technology, this vivid lemon-coloured fridge from Smeg is ideal for storing food for medium to larger sized households. With a compartment for storing frozen foods, this refrigerator can keep both fresh and frozen foods together in one convenient appliance.
Bold Design
Coming straight from Smeg's iconic 50's Retro Style aesthetic line, this sunny fridge is not for the faint of heart kitchen. With its unmistakably curvy vintage design and bright yellow colour, this bold fridge is so classic it's new, being suitable for both modern monochrome kitchens, as well as more classic/retro kitchens.
When you come to place the fridge, make sure there is a gap of 175mm left on the hinged side of the appliance to allow the door to open.
Generous Storage Space
The retro Smeg fridge has 222 litres of fresh food capacity, with flexible elements so you can organise the space to suit your groceries.
3 adjustable glass shelves can be moved up or down to accommodate larger items, where as the fruit and vegetable container remains in the same place to ensure there's always a set space for delicate foods.
The 1 chrome wine rack can be set at different heights and two different positions for your convenience. Whether you want it positioned horizontally or with the front part raised to keep already open bottles safe,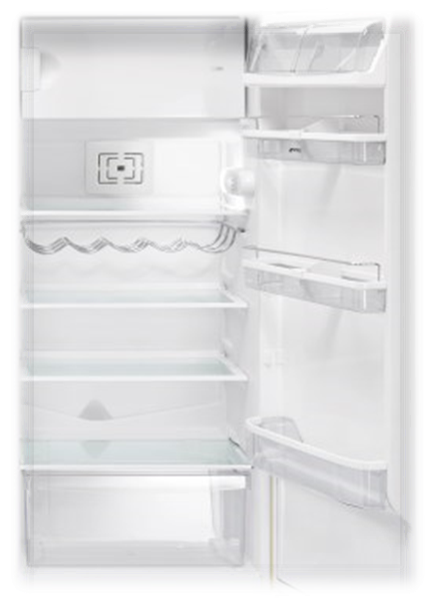 Ice box
A small ice box at the top of your fridge is ideal if you want to quickly grab a couple of ice cubes to go in your drink or grab a ready meal or bag of vegetables without having to scrabble around in a large freezer to find them.
Convenience at its best, the auto defrosting ice box in this Smeg fridge can hold up to 26 litres. With a 4 star freezer rating, the ice box comes with an ice cube tray to give you a head start on those cool drinks.
Technical information:
Gross capacity: 256 litres
Tropicalized compressor
Energy consumption: 215 Kw/h per year
Climatic class: N-ST
Freezing capacity: 2kg/24h
Thaw time: 12h
Climatic selector switch
Retro style fridge with icebox
Bold yellow design
222 litre fridge capacity
26 litre ice box storage
Adjustable shelving