Product Information
This built-in double oven from Bosch is modern in appearance and will compliment other kitchen appliances. With 4 different cooking functions between the two ovens, easy to use controls and full double glazed inner glass door, this oven shows off modern cooking convenience at its best.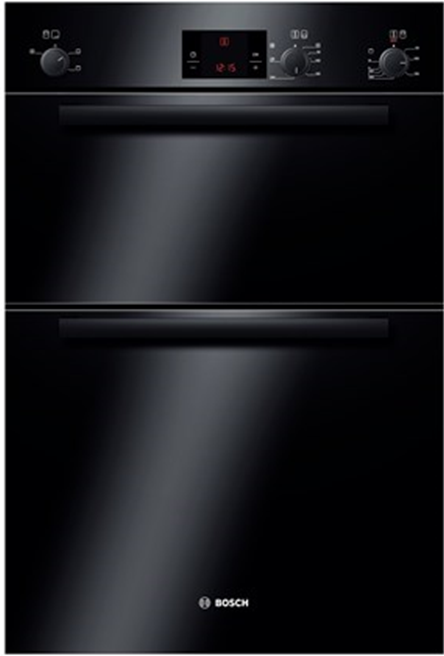 How will this fit in my kitchen?
This double oven is a built-in appliance, so it's designed to be installed at eye level inside a taller kitchen cabinet. Its smooth design will streamline the look of your kitchen whilst having a chic and modern appearance.
Built-in ovens have to sit snug into your kitchen cupboard unit, so please measure carefully to ensure the oven will fit comfortably in your Kitchen.
Dimensions: (H) 888mm x (W) 594mm x (D) 550mm
Capacity
Overall this smart double oven has 106 litres shared between the main oven and second oven. The main oven has 5 adjustable positions, making it easier to cook larger items on different levels so that you can optimise the flexibility of the oven to suit your meal.
Easy to clean
The combination of self-cleaning catalytic liners that burn food splatters of the side of the oven and the smooth enamel oven interior, cleaning this oven won't be too much of a chore, leaving you free to put your feet up for longer after all that cooking!
Functions
The main oven has 2 cooking functions that will help your meal along from start to finish, with the added bonus of an A energy efficiency rating. Not only is the oven fan assisted for thorough and even cooking, but it also has a defrost function that will thaw food out for you in a quick and hygienic method.
The top oven also has 2 cooking functions with a B energy efficiency rating. Whilst the conventional cooking function is ideal for providing extra cooking space for larger meals, it can also be great for keeping plates or dishes warm. It also has a grill function that's ideal for whipping up a healthy meal or quick snack.
Controls
3 rotary dials are all that's needed to control both ovens, with an easy to use touch controlled LCD panel for the timer, so you can get on with other things knowing that the oven will call you back when you're needed.

Full double glazed inner door glass
Bosch have given full double glazed inner door glass door for both the main and the second oven. Along with the side strip application, these inner glass doors keep more heat in so that less energy as wasted, as well as giving the whole double oven a strong and solid feel.
Built-in electric double oven
106 litres capacity
Fan assisted oven cooking
Defrost function
Grill
---