Product Information
Dimensions - Height min (690mm) - Height max (1190mm) - Width (900mm) - Depth (600mm)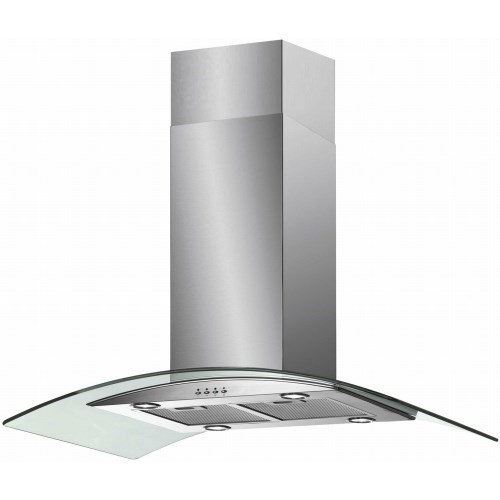 This Island cooker hood from Baumatic is stylish, powerful and ideal for extracting cooking odours and steam from medium and large kitchens. It is easy to operate and has a choice of re-circulation or ducting extraction, making it suitable for different types of kitchens as well as being a chic statement piece.
How will this look in my kitchen?
Island hoods are designed to be installed above a centre island unit, so this Baumatic hood will attach directly to the ceiling rather than the wall, allowing you a full panoramic view of the cooker hood.
Made from strong stainless steel and finished with a modern curved glass canopy, this 90cm wide extractor has an eye catching design that will uplift and modernise your kitchen.
Light it up
Offering a power and reliable source of light, 4 halogen lights are integrated into the corners of this cooker hood that will clearly illuminate your hob so you can cook with ease.
Powerful
This Island cooker hood is operated by 4 electronic push button controls. With an un-cluttered design these buttons display 3 powerful extraction speed settings so you can adjust the extraction power to suit your dish.
The extraction capacity of this cooker hood can reach to a powerful 750 m³/hr, which is ideal for medium to large kitchens.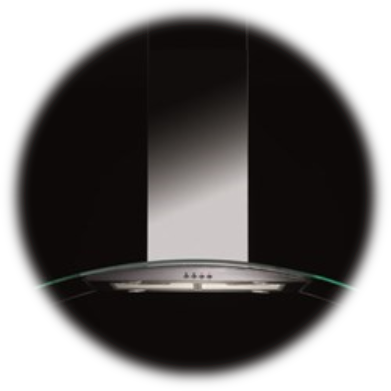 Stuiable for extraction or recirculation
You can choose to have this cooker hood operate under either ducting or recirculation extraction which means you can use this cooker hood no matter what type of kitchen you have. If you choose to re-circulate you'll need a charcoal filter, and if you duct out, you will need a ducting kit.
Noise?
The Baumatic Island cooker hood is between 61-68 decibels in noise. Extractor fans can be intrusive when functioning on a high speed, especially if you eat meals in the kitchen. If you switch the fan on when you start cooking, the air should be comfortable enough to set your extractor to low or even to turn off, when you sit down to your meal.
Cleaning
With an easy to wipe stainless steel and glass canopy, the cooker hood also comes with 2 aluminium grease filters. These can be taken off and washed, saving you from having to buy new ones.
Optional accessories
SQ1 – filter for recirculation
DK5 – 1 metre ducting kit, 125mm diameter
DK10 – 3 metre ducting kit, 125mm diameter
Baumatic guarantee their appliances for 5 years on the parts and 2 years on the labour. Please ensure you register your appliance to receive this.
Island cooker hood
Modern stainless steel and curved glass canopy design
Powerful 750 m³/hr extraction rate with 3 speeds
Suitable for extraction or recirculation
2 washable aluminium grease filters