Product Information
Fridge 301 L
5 Safety glass shelves, 2 are adjustable
1 Large and 2 small door balconies
Metal bottle rack
1 Chiller box
1 Crisper box
Dairy compartment
Freezer 111 L
3 Transparent drawers
4 Star freezer rating
Manual defrost
Defrost water outlet for easy defrost
Super freezing function
Freezing capacity in 24hrs: 15kg
Max freezer storage time in power failure: 44hrs
Dimensions:
H201 x W70 x D65 cm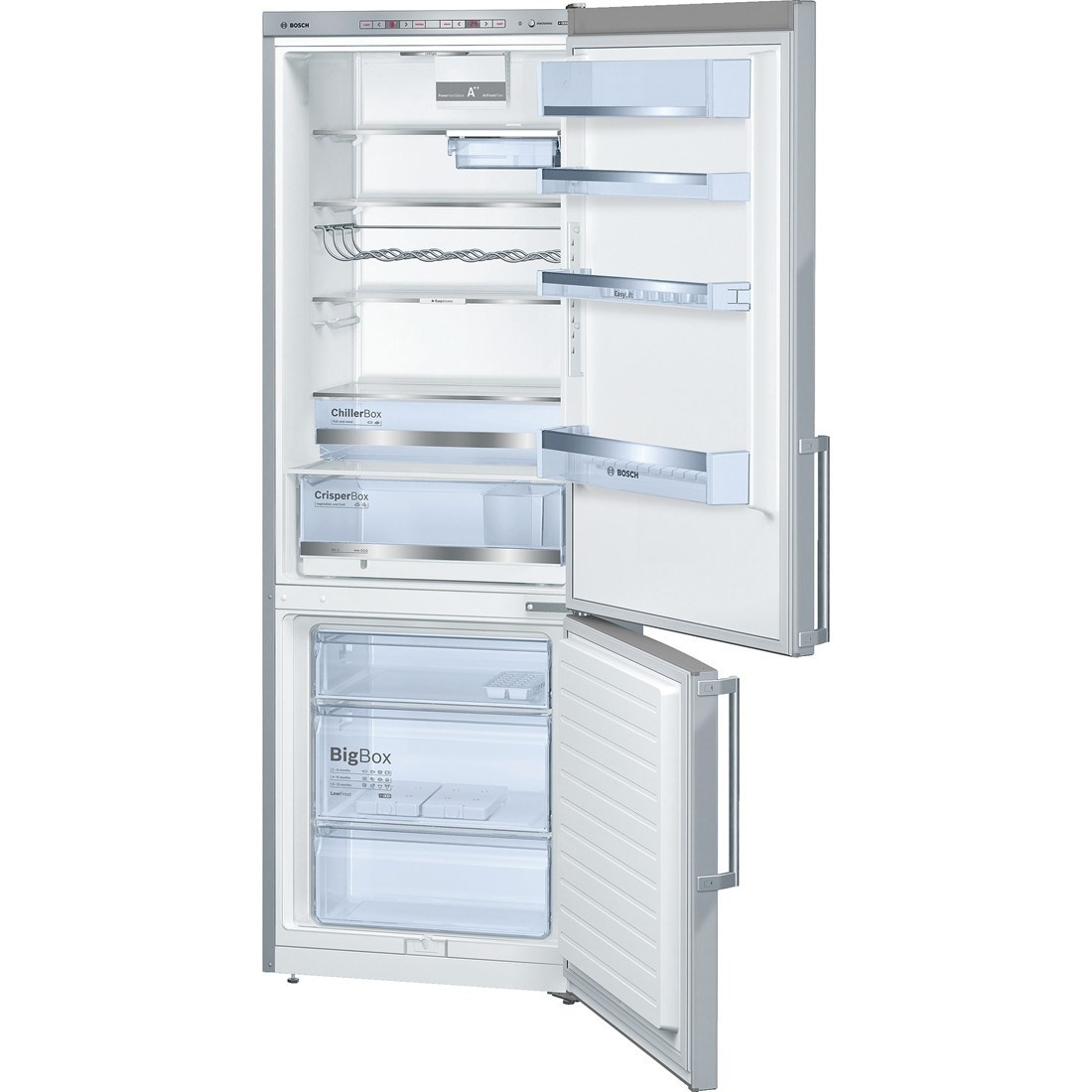 Easy maintenance
LowFrost The Bosch KGE49BI30G boasts of low frost. Low frost saves you lots of time and effort as ice formation is considerably reduced. This freezer will need defrosting much less often and the energy consumption will remain constant. When it does come to defrosting this freezer Bosch have made it simple, with a practical vent at the base of the appliance, making the job quick and easy.
Easy Clean This freezer features an easy clean function, easy clean doors along with removable easy clean magnetic seals. The Easy clean system enables the dust container to be removed in just one movement at the touch of a button, making it very easy and simple to clean and it has no corners, preventing dirt from getting trapped or accumulating.
Great functionality
SuperFreezing
Protect your previously frozen food from defrosting when you add new frozen products to the freezer. The new frozen products will freeze faster. Energy waste is prevented with the SuperFreeze function as the appliance returns to normal operation once the required freezing temperature is reached after new products have been added.
Chiller box Providing a safe place within the fridge to keep fish, meat and sausages. The chiller box has a lower temperature than the rest of the fridge as the box has a cold current of air provided by the freezer section. Perishable food will stay much fresher for a lot longer. Meat products are not all that you can store in this practical chiller box, anything you want quickly cooled and go in, such as cans of pop.
BigBox frozen food drawer The freezer features an extra-large transparent drawer. This BigBox is ideal for stacking your own plastic food containers or storing those awkwardly shaped frozen items. With transparent doors it's easy to check on your food levels, so you know exactly when it's time to hit the shops and stock up on frozen items.
Features:
Energy efficiency class: A++
Total net capacity: 412 litres
Fridge capacity: 301 litres
Freezer capacity: 111 litres
Annual energy consumption 255 kwh
Quiet with only a 39dB Noise Level
2 Years Warranty
Dimensions: 2010mm(H) x 700mm(W) x 650mm(D)
Easy clean doors
Reversible door
Removable magnetic door seals
2 Separate cooling circuits
Door open alarm
Freezer malfunction alarm
Height adjustable front feet
---