Product Information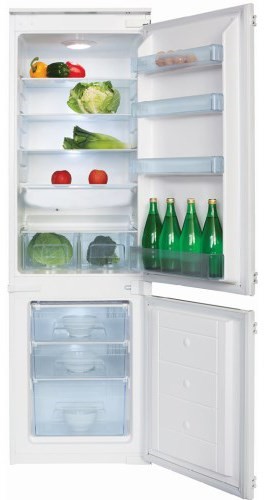 This integrated fridge freezer from Matrix has an A+ energy efficiency rating, a 70/30 split between the fridge and the freezer and is manually controlled, making it the perfect fridge freezer for those who want a fridge freezer that will save them space and money in the long run.
How will this fit in my kitchen?
This is a built in fridge freezer and is designed to be fitted into a tall kitchen cabinet unit with the fridge at eye-level and the freezer below. Please measure the dimensions of this integrated fridge freezer carefully to ensure it will fit in your kitchen cabinet:
Dimensions: (W) 540mm x (D) 540mm x (H) 1773mm
The front feet are height adjustable, which will make it easier to secure the fridge freezer inside your kitchen cabinet. The doors are reversible with sliding fixings that are perfect for more compact kitchens because you can position the doors to swing in a direction that suits the layout of your kitchen.
The Fridge
The fridge section of this integrated fridge freezer has 70% of the appliance's space, which makes it ideal for those who like to buy more fresh than frozen. It also comes with some handy features to help to organise and optimise the space to suit your groceries:
4 glass shelves (plus a half shelf)
2 salad crisper drawers
4 in-door balconies
Egg tray
The interior light will help you to see to all corners of the fridge, making sure you don't forget or miss smaller items of food before they go out of date.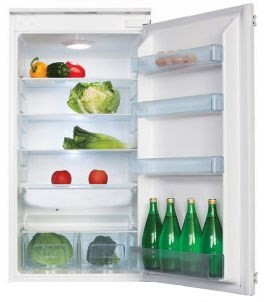 The Freezer
The freezer section of the Matrix Fridge freezer uses 30% of the appliances capacity and has a 4 star freezer rating. It has 3 storage compartments, one of them being extra-large for bulkier items such as joints of meat or tubs of ice cream. To finish it off, the freezer also comes with an ice cube tray.
Capacity
Fridge net capacity: 190 L
Freezer capacity: 70 L
Freezing capacity: 3.5 kg/24 hr
Technical Specification
Max storage time (power failure): 11 hours
Climate class: N-ST
Noise level: 39 dBA

Energy efficiency rating: A+
Energy consumption in a year: 274 kWh
Energy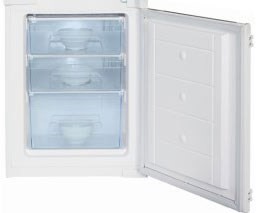 Built in fridge freezer
Perfect for compact kitchens
Interior light
A+ energy efficiency rating
70/30 Fridge Freezer Split
Door Fixing Type: Sliding Rail