Product Information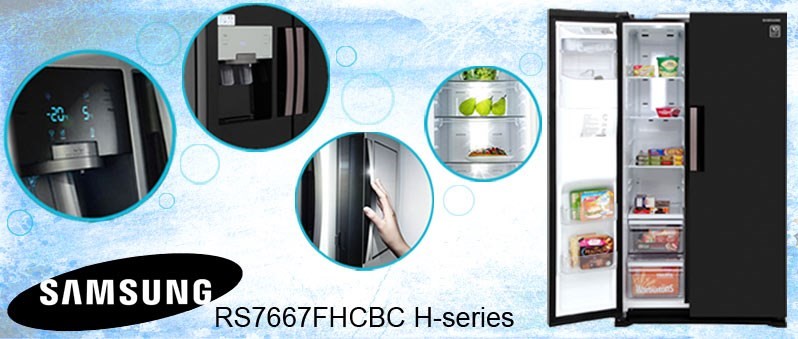 Fridge net capacity: 361 Litres
Freezer net capacity: 184 Litres
Dimensions: H178.9 x W91.2 x D69.2 cm
Contemporary elegance
It's all in the presentation. The impressive looks of the Samsung RS7667FHCBC are sure to inspire scrumptious culinary creations. With smooth lines and a polished finish this fridge freezer enhances your space instantly. With inviting features such as the ClearView ice maker, LED interior tower lighting and easy access storage the Samsung RS7667FHCBC has a great deal to offer to even the most basic of chefs.
Twin Cooling Plus® System
The Samsung RS7667FHCBC uses two separate air flows and precise temperature control to maintain optimal humidity levels on both the refrigerator and freezer side. Resulting in better food quality, keeping your fruit and veg crisp and fresh, preventing freezer burn on your ice cream and also stopping cross contamination of flavours which is highly practical as you wouldn't want your ice cubes to smell like the garlic bread you have stored in the fridge.
Multi flow air cooling
Working on every level with small vents over each shelf, an even temperature is maintained throughout the refrigerator, helping to prolong the freshness of your food.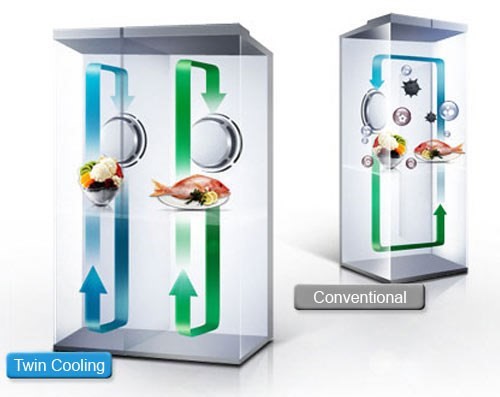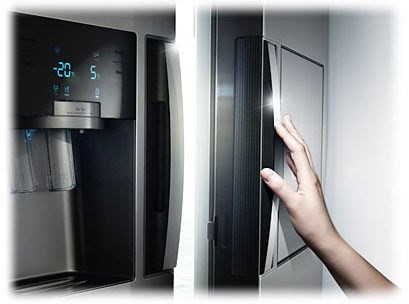 Information and control at your fingertips
Featuring an external LED display which emits a modern blue glow you know exactly what's going on inside your fridge freezer without having to even open the door. Keep an eye on the temperatures to ensure optimum food storage, be aware of when it's time to change the filter and there's even a vacation mode for when you're off on holiday. This sleek control panel also operates the water and ice dispenser, effortless cool down.
Optimum storage
With just the touch of one finger and minimal exertion this fridge freezer opens up smooth and easy thanks to the EZ handle, which is inset in to the design, maintaining a sleek and seamless look. The Samsung RS7667FHCBC has the ClearView ice maker built in to the door which frees up space within your freezer, giving you two more shelves whilst still storing 2kg of ice. You are also able to easily keep an eye on your ice levels as the box is transparent. The freezer section also allows you to easily monitor your food levels as this freezer doesn't have your conventional drawers, the interior is made up of easy access shelves just like the fridge compartment.
The fridge features larger than standard salad crispers, allowing you to stock up on your fresh foods. Now you can store a whole melon or lettuce and still have room for the rest of your fruit and veg.
A stunning view
From the exterior to the interior the Samsung RS7667FHCBC has all the looks. Opening up both the fridge and freezer you are presented with clear, bright visibility. The back of the Samsung RS7667FHCBC has LED tower lighting. Giving you more storage space for taller items as there's no longer lighting hanging down from the top. This sophisticated lighting also emits less heat than the conventional lighting, so the refrigeration doesn't have to work as hard to keep things cool, saving on energy.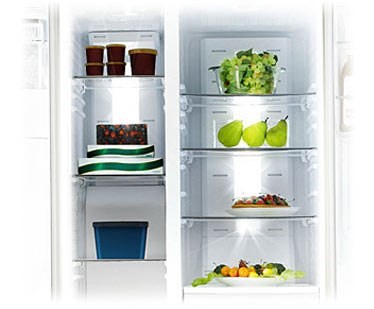 Which? Best Buy Fridge Freezer July 2016
Features:
Energy A+ rating
Fridge net capacity: 361L
Freezer net capacity: 184L
LED display and controls
Twin cooling system
No frost
Multi flow air cooling
4 Star freezer rating
LED interior tower lighting
Noise level: 39db
N.B. All large fridge freezers are doorstep or garage delivery only.
---