Product Information
Quick Spec:
Semi-Integrated
design
Adjustable
racking
Emery rating:
A+
6
Programmes
Quick wash
29mins
Dimensions:
H 81.5-87.5 x W 59.8 x D 57.3 cm
Contemporary design
The Neff S41M63N1GB built-in dishwasher is an integrated design which will be fitted into your kitchen units with a coordinating door panel, matching your kitchen and providing a seamless, contemporary look. Installation is easier with the Neff S41M63N1GB thanks to lower plinths and VarioHinge. With a spring pressured ServoLock door you get a secure close with minimum effort and with a childlock and tamperproof controls you can rest assured no curious little fingers will be harmed.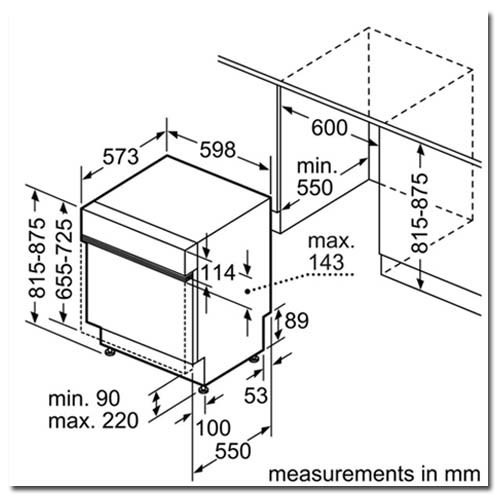 Flexible loading
The interior of the dishwasher has VarioFlex baskets for flexible loading and unloading. As well as a 3-stage Rackmatic top basket and 4 foldable cup racks throughout the machine allowing you to fit your dishes perfectly.
Programmes
Running at a noise level of only 42dB this dishwasher is ideal for utilising the 24hour timer delay settings and running through the night, so you wake up to sparkling dishes. The Neff S41M63N1GB has AquaStop which will give you peace of mind if you run the dishwasher whilst out as this anti-flood device shuts off the water supply to protect against leakage or flooding.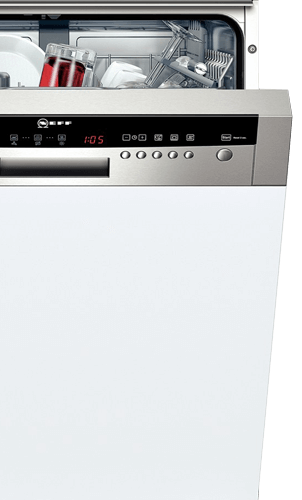 Featuring 6 programmes and 3 special options there's a programme suit all your dishes.
Pre-rinse
Quick wash 45ºC
Intensive 70ºC
Auto daily 45-65 ºC
Eco 50ºC
GlassCare 40ºC
Intensive Wash Zone
VarioSpeed
Extra Dry
Wash performance: A
Drying performance: A
Noise level: 42dB
Smart technology
Using a DetergentAware system the Neff S41M63N1GB will automatically adjust its cycles according to whatever type of detergent you use to achieve optimum results. With DosageAssist the detergent will be dispensed perfectly and even.
Superb wash
With a NeffSparkle automatic programme designed especially for mixed loads you are ensured a superb wash which also treats glassware with extra care. HydroMix technology provides optimal glassware washing. Featuring VarioSpeed you will save time on every wash. Heat exchanger technology provides hygienic and efficient drying of dishes.
Smart choice
Performing with an A in wash and an A in dry the Neff S41M63N1GB delivers excellent results. Impressively resourceful using only 10 litres of water per cycle and 0.92kWh per standard cycle its no wonder this dishwasher has been rated A++ for energy efficiency. Saving you money on your monthly bills as well as being kinder to the environment.
Features:
Semi Integrated design
Stainless steel
Adjustable racking
13 Place settings
6 Programmes
4 Temperatures
Quick wash programme – 29mins
Child lock
Anti-flood device
Auto 3 in 1 detection
24 Hour timer delay
Rinse aid indicator
Salt level indicator
LED display
Annual energy consumption: 290 Kwh
Emery rating: A+
Noise level: 46 dB