Product Information
This Tumble Dryer vents at the rear of the unit
Dimensions: H84.2 x W59.8 x D63 cm
Featuring a capacity of 7 kg the Bosch WTA74200GB is ideal for larger families. Drying around 21 T-shirts per load. With an LED display and a fully electronic controls with a variety of programmes to suit your load drying your clothes has never been easier.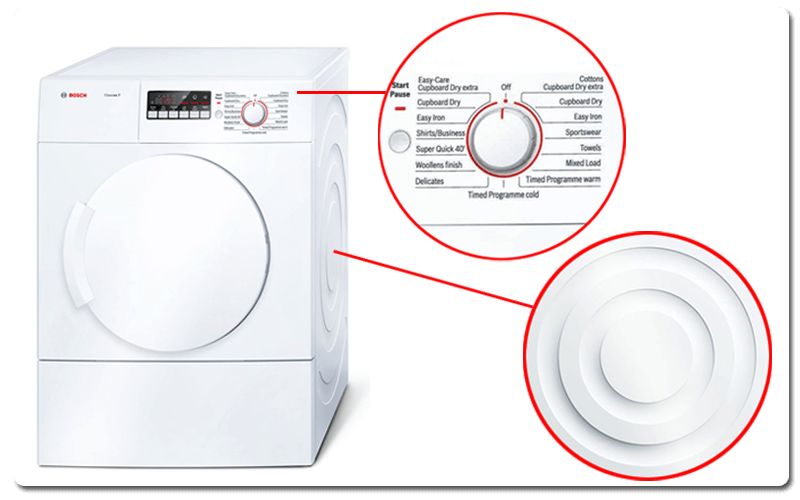 Programmes
There are a range of special programmes with options for mixed loads, towels, sportswear and shirts as well as a super quick cycle to help you dry your favourite outfit in time for a night out.
Special programmes: Woollens, Mixed Load, Towels, Timed programme warm, timed programme cold, Sportswear, Lingerie, Super Quick 40, Shirts/blouses.
Buttons: start/pause, Low heat, Buzzer, Reduced ironing, Drying length, Fine-tuning for drying level, 24 hours Time Delay.
Anti crease cycle 60 minutes at the end of the programme.
Sensitive drying system
With a unique drum structure your laundry is dried by mild, warm air coming from all sides, helping to prevent clothes from sticking to the sides of the drum. Special soft-flow paddles keep the laundry turning smoothly instead of lying flat. Sensors prevent over drying, resulting in soft, un-creased laundry.
AutoDry
Gently dries your laundry to exactly the degree of dryness you want.
AntiVibration design and EcoSilence drive
The Bosch WTA74200GB has contoured side walls which reduce the vibration and increase the machines stability. Alongside shock absorbers and EcoSilence drive noise is dampened. Delivering you a less obtrusive drying process.
Time delay
Dry at the most convenient time for you. With 24 hour time delay you can set the dryer to start even when you're not home. Thanks to the LED display you can easily see how long is left on your selected programme.
Features:
Energy efficiency rating: C
Capacity: 7 kg ideal for medium sized households
Noise level: 65 dB
12 Drying Programmes
Anti crease cycle
Buzzer to indicate the end of cycle
2 Years Warranty
Dimensions: 842mm(H) x 598mm(W) x 630mm(D)
Sensitive drying system
AutoDry
LED display
Fully electronic control dial
AntiVibration design
Time delay
Child lock
Annual energy consumption: 482.0 kWh
Slide-under installation
NOTE: The vent hose connects at the back of the appliance