Smeg Appliances at Appliances Direct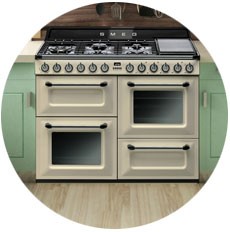 Italian Excellence - Aesthetic design combined with innovative technology results in unique products, which both look great and are highly functional.
Renowned Design - Smeg have an incredible reputation for the design of their products, with many of their 50's style products being instantly recognisable as a Smeg product.
Chosen by Professional Chefs - Combining design with outstanding cooking performance Smeg is the perfect solution for creative chefs.
Great Performance - Smeg have utilised only the best materials to ensure long life and great performance.
Know-how, creativity and style - A few of the qualities that have evolved from Smeg's Italian identity and characterises the company's commitment to bringing everyday objects to life.


Smeg are one of our recommended brands because they offer top quality products that ouze design and technology. They share our passion for the 50's retro style and have created a well-loved and desirable brand.


Appliances Direct are a leading online retailer. We strive to bring our customers the very best appliance deals from today's leading brands, whilst offering the best possible advice through our specialist trained team who collectively have out 100 years' experience.