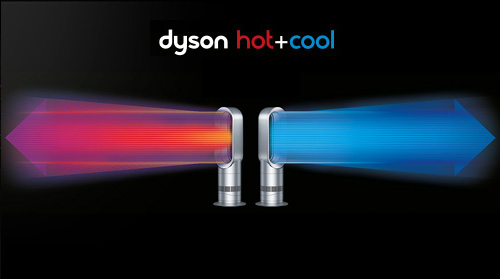 A FAN FOR ALL SEASONS
Stay toasty in the winter, and remain cool in the summer with Dyson's new and improved AM09 hot and cool fan. This all-in-one fan doesn't feature any fast-spinning blades or visible heating elements, instead it uses Air Multiplier technology to draw in surrounding air and channel it into an uninterrupted stream of smooth warm/cool air. And, because the Dyson AM09 is as stylish as it is versatile, you'll never need to put it away!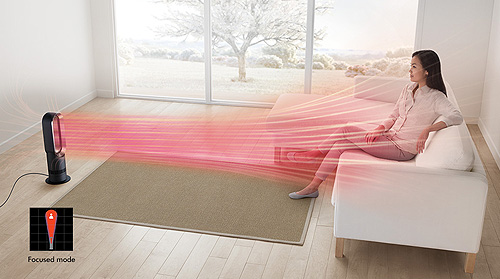 CUSTOMISED AIRFLOW
Enjoy powerful uninterrupted airflow where you want it with the choice of both focused jet and whole-room distribution. Unlike other heaters, the Dyson AM09 fan uses Air Multiplier technology to project heat further across the room, quickly and evenly. Alternatively, if you only need one part of your room to be heated then you can select "Jet Focus" mode for long-range direct heating - ideal for when you're on your own or don't want to waste time and money heating unnecessary areas.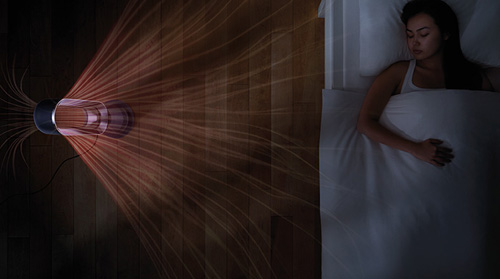 PERFECT FOR NIGHT TIME USE
The Dyson AM09 has been engineered to significantly reduce turbulence throughout the machine. It features streamlined air channels that allow air to pass through the machine with greater efficiency - making it 75% quieter than the previous generations. In fact, it's the only fan heater with Quiet Mark accreditation. Plus, use can set it to turn off automatically using the built-in sleep timer.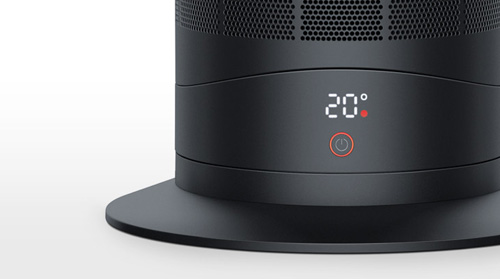 ENERGY EFFICENT
The AM09 is one of the most energy-efficient fan heaters on the market. It's equipped with an intelligent thermostat to monitor and maintain your target temperature. Once the room reaches your set temperature the AM09 will automatically switch itself off. In doing so, it uses approximately 30% less energy to heat the whole room than other fan heaters.
OTHER GREAT FEATURES
Remote control - Control from anywhere. When not in use, store it magnetically on top of the machine
One touch oscillation - Allow airflow to be directed around a room
Easy tilt - pivots on its own centre of gravity, staying put without clamping
Safe - No spinning blades or visible heating elements
Easy Clean - There's no awkward safety grilles or blades
Dyson AM09 Hot and Cold Air Fan in White/Nickel
What stands out
Dual functionailty, use it all year round as a Fan or Heater
75% quieter, great for night time use
Patented Air Multiplier™ technology
The only fan heater with Jet focus control
Long-range powerful airflow
Wide projection to mix the surrounding air
To the degree precise heating mode that maintains the desired temperature
Now with 2 years warranty
Safe and easy to clean with no fast-spinning blades
Easy tilt and oscillation control for focused airflow
Energy Efficient
More Info
Dimensions (LxWxH mm) 204x204x595
Base diameter (with plate) 204mm
Weight 2.68kg
Cord length 1.8m
Colour White/Nickel
Temperature Settings - Yes, to the degree