Product Information
The Bosch 900W Microwave oven with grill not only has an efficient and versatile cooking performance, but it looks great too. With 21 litres capacity and 5 different power levels, you can whip up and reheat all sorts of delicious dishes within minutes.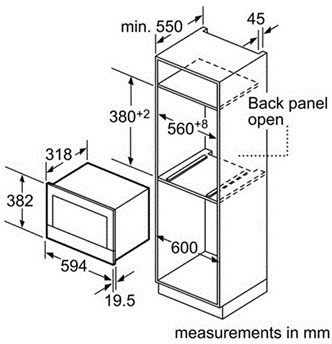 How will it look in my kitchen?
This built in microwave oven is designed to be installed into one of your tall housing kitchen units at eye level for an accessible and space-saving solution for your kitchen and cooking style. Please measure the dimensions and cut-out (niche) dimensions carefully before ordering:
Appliance dimensions: (H) 382 mm x (W) 594 mm x (D) 318 mm
Cut-out dimensions: (H) 362 mm x (W) 560 mm x (D) 300 mm
Please reference the built-in dimensions provided in the installation drawing
Stainless steel design
With a stainless steel design inside and out (even the fan), this microwave oven is both stylish, durable and easy to clean – a winning combination.
The inner door is glass so you can check on how your food is progressing, and the whole door is left-hinged and opens to the side so that you can install the microwave in the best position for the layout of your kitchen.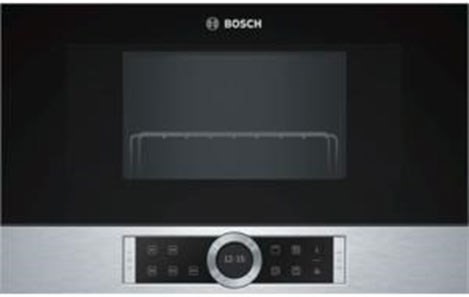 Power
The maximum power for this microwave is 900 W, but if you're cooking a dish that have microwave instructions for a different power level, this Bosch microwave has 5 alternative power settings ranging between 90W and 900W.
Programmes/functions
This built-in microwave gives you 2 ways of cooking your food – either by microwaving or grilling. The grill is a variable quartz grill that distributes heat more evenly for a thorough cooking process, and it can cook at different temperatures which makes the grill versatile for snacks all the way to browning dishes.
10 automatic cooking programmes act as the ultimate quick and easy support systems for the microwave and grill – perfect for effortless cooking on those busier nights.
Controls
The rounded LED display makes it easy for you to control what you're programming and see the clock timer as your food cooks. The stainless steel control wheel and touch buttons make for an effortless and modern user experience that will make opening, closing, starting, stopping and programming easy!
Standard Accessories
Performance/Techical Information
Cavity volume: 21 litres
Microwave inverter technology
Stirrer fan distribution
Length of mains cable: 150 cm
Total connected load electric: 1.99 KW
2.5"-TFT colour and text display with direct select buttons
Number of cavities: 1
Heat source: electrical
Inverter (MW)Cavity volume: 21 litres
Key Features:
Microwave oven with variable quartz grill
900W
5 power levels
Automatic cooking programmes
Stainless steel design