Product Information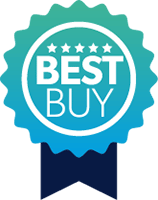 Best Buy
By collaborating with some of the world's greatest brands, we've created specialist Best Buy collections across our most popular product ranges. We will keep them updated, to bring you the best choice, the best price and the best products. And that's a promise.
What stands out
Store over 6 bags worth of shopping with its combined 155L of space
Reversible doors, so you can fit it into any corner of your kitchen
Fridge has ample space in its 4 compartments and 3 in-door balconies
Salad drawer in gives you optimised storage and keeps food separate from other produce
Transparent freezer drawers makes it easy for you to see and organise your shopping
The details
This freestanding combi fridge freezer makes a great addition to your kitchen. With a 50/50 fridge freezer split and a combined 155 litre capacity there's plenty of room inside to store over 6 bags of shopping including fresh groceries and frozen foods – perfect for small to medium households.
The fridge part boosts 1 adjustable glass shelf and a large full width bottom drawer which also serves as a salad crisper and with a shelved top to keep your fruit and veg separate from other produce. There's also 3 removable in-door balconies with generous in-between space too.
The freezer consists of 3 drawers making it easy to store and organise your frozen goods, you can even store bulkier items with ease in the deeper bottom drawer. They're transparent too which makes it easy to locate your food and check when supplies are low. With a 4* rating you could essentially freeze up to 12 months without losing the original quality and taste.
Essential info
Dimensions: H129 x W50 x D56.5 cm
Fridge capacity: 99L
Freezer capacity: 56L
Fridge and freezer settings: 1-7 (7 being the coldest setting)
Number of fridge shelves: 2 including a bottom drawer
Number of fridge in-door balconies: 3
Number of freezer drawers: 3
Colour: White
Rear panel material: Metal
Reversable doors: Yes
Hinge position: Right
Noise level: 42dB
Warranty: 1 year
More info
Maximum noise level: 42dB
Freestanding design
Integrated handle
Reversible door to suit your kitchen layout
Bottom drawer of fridge is a salad crisper
Fridge has 3 compartments and 3 in-door balconies
Fridge has 2 shelves, 1 of which is adjustable
Freezer has 3 compartments
Freezer's 4* rating extends the life of your frozen goods
Defrost process: manual (door open)