Product Information

Add an extra level of safety to your drive and protect yourself from false insurance claims and accusations while also reducing the risk of running a red light or getting caught speeding with the THINKWARE F750 DASH CAM.
From capturing hit-and-runs to warning you if you stray from your lane, the F750 has you covered.
Safety Camera Alerts
Although the majority of drivers are cautious of their speed and driving style, the THINKWARE F750 DASH CAM offers a number of features that gives you an alert when you are approaching traffic enforcement area, so you can simply be prepared.

Red Light Camera Alert
Don't risk getting caught out at traffic lights with red light cameras. This dash cam will warn you if any are approaching so you can check your mirrors and be prepared in case the lights change unexpectedly.
Speed Camera Alert
Sometimes you look down and notice you have strayed above the speed limit by one or two miles per hour. If you are approaching a speed camera, the F750 will alert you so you can double check your speed.
Average Speed Zone and Mobile Speed Zone Alerts
As with the Speed Camera Alert, the F750 will let you know when you are entering an average speed zone or mobile speed camera zone as a gentle reminder to check your speed.
See Every Detail
Catch each and every detail with the F750's 1080p Full HD recording. Whether you are driving along the motorway or parked at the supermarket, you will always be given high quality image quality.
This dash cam also features a number of auto-image correction tools to help produce even clearer results. They include the Noise Reduction System which removes unwanted noise while you are driving at night or through shady areas such as tunnels.
What's more, this dash cam provides an amazing 140° field of view to capture the entire road.

Continuous Mode
Powers on automatically when the engine is started and continuously stores footage as one-minute clips.
Incident Mode
Built in G-Sensor detects any impact to your car. Records footage including 10 seconds leading up to and 10 seconds after the event.
Parking Surveillance Mode
Monitors your vehicle when the ignition is off. Combination of motion detection and impact monitoring to protect vehicle from common hit-and-run incidents while you are not there.
Manual Mode
With the push of a button, recording can be started. Capture significant moments such as dangerous road rage to be used as evidence, or simply exciting moments such as deer crossing the road.
Auto Switch
When the engine stops, the F750 assesses the voltage condition in the car and switches to parking mode automatically. When you start the engine, the dash cam switches automatically to continuous recording mode.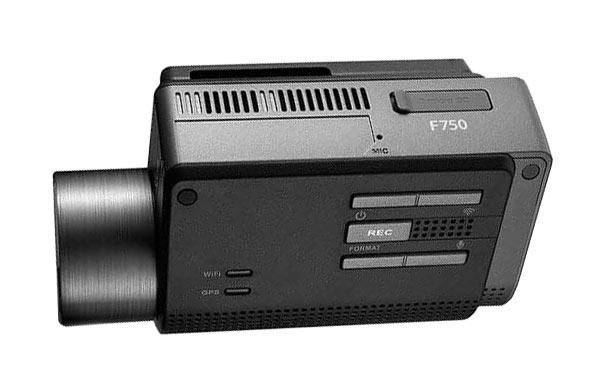 Dual Save Recording
When a certain level of impact is detected by the F750, footage of the incident will be recorded using both the inserted Micro SD card and also the internal memory. That way, you don't need to worry about your Micro SD card being damaged in the impact, or simply popping out of place.
Value Added Feature:
Safety Camera Alert
Road Safety Warning System
Parking Mode
PC Viewer
Mobile App
2 channels
Technology & Reliability
Dual Save Technology
Super Capacitor
Wide Viewing Angle
Advanced Video Clear Technology
Secure Mounting
Thermal Protection
Ambarella CPU & Sony CMOS Exmor Sensor
Product Features
Time Lapse
1080p Front & Rear All Full HD
30FPS
Wi-Fi enabled
Mobile App (IOS & Android compatible)
Safety Camera Alert Road Safety Warning System (LDWS, FCWS)
Built-in GPS
Dual Save
Advanced Clear Technology
Recording Time
Video Quality: capacity-32GB
Full HD 30fps - 124 min
Technical Specification
Resolution:
F- Full HD (1920 X 1080P)
R- Full HD (1920 X 1080P)
Camera:
F - Sony Exmor CMOS 2.19MP
R- Sony Exmor CMOS 2.19mp (optional)
Frame rate: 2 Ch 30fps
Frame rate: 30fps
Viewing Angle: 140°(Diaganal)
Dimensions: 105.2 x 61.5 x 41mm
Weight: 140.5g (0.31lbs)
Storage temperature: -20 - 70°C
Operating temperature: -10 - 60°C
Capacity: Micro SD Card 32GB (UHS-1)
Input Power: DC 12/24V (Max 35V) Built in Super Capacitor
What's In the Box
1 X Dash cam
1 x Rear view camera
1 x Mount
1 x Hardwiring cable
1 X Adhesive cable holder
USB MicroSD Card Reader
1 x MicroSD Memory card with adapter (consumable)
1 x Quick start guide and warranty card