Product Information
This canopy cooker hood from Smeg has a subtle design that will complement most kitchens, especially if you have black and silver appliances. With a 250m³/hr extraction rate and 3 speed settings, this cooker hood will keep your kitchen environment cleaner during the heat of hob cooking.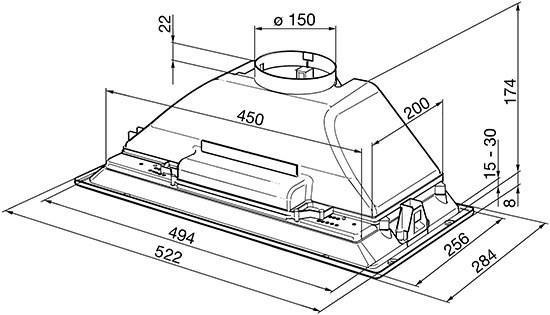 How will this fit into my kitchen?
This canopy hood is designed to be installed into a kitchen cabinet over the hob. The hood will only be seen from the underside of the cabinet, which is ideal for those who want a cooker hood that is functional but remains subtle in their kitchen design.
Please measure the dimensions of this cooker hood carefully to ensure it will fit in your available space:
Dimensions: (H) 20.4cm x (W) 52.2cm x (D) 28.4cm
High performance extraction motor
The 125 W motor allows this canopy hood to give a maximum extraction rate of 250m³/hr – ideal for smaller kitchens.
3 speeds
With convenient slider controls, you can choose how much extraction power you want based on the amount of food you are cooking and how much cooking odour and steam is being emitted. There are 3 cooking speeds, each of which are backed by the powerful motor for efficient extraction on each speed.
Suitable for ducting out and recirculated extraction
The canopy hood has been designed to be suitable for both external and internal extraction to suit various kitchen layouts and positions – ideal if you live in a flat.
If you decide to duct out, you will need a 150mm ducting kit, and if you decide to recirculate the air you will need a set of charcoal filters for recirculated extraction.
Energy efficient lighting
This Smeg canopy hood comes with two 28W halogen lights on the underside of the hood so that you can see better whilst cooking. Halogen lights are longer-lasting than incandescent bulbs which will save you from having to change them as frequently and they are more energy efficient.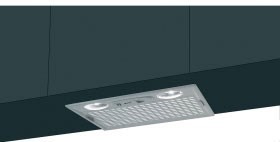 Easy to keep clean
This canopy hood comes with 1 synthetic grease filter that needs replacing every 3-6 months depending on what youve been cooking.
Noise level?
The noise level of this canopy cooker hood depends on the speed setting you have it on. Take a look at the table below to see what extraction rate and noise level each speed setting has:
| | | | |
| --- | --- | --- | --- |
| Speed | I | II | III |
| Extraction rate | 140 | 190 | 250 |
| Noise level dB(A) | 50 | 56 | 63 |
Technical information:
Vent outlet: 150mm
Nominal power 181 W
52cm canopy hood
250m³/hr maximum extraction rate
3 extraction speed settings
Synthetic grease filter
Suitable for ducted out and recirculated extraction
Are you recirculating the air? Then you will need charcoal filters.
You can find them here »
Are you extracting the air? Then you will need a ducting kit.
You can find them here »