Product Information
Dimensions H32.4 x W89.8 x D28 cm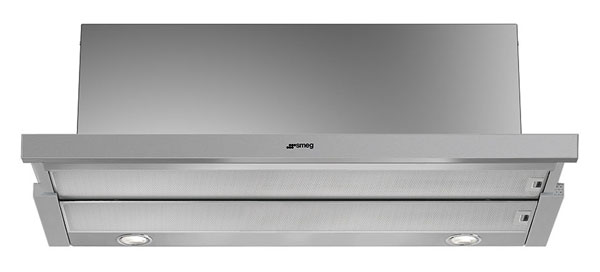 The Smeg KSET900XE cooker hood is a stylish yet practical addition to your kitchen. With lots of useful features including a powerful motor, lights and a telescopic design, youll find your time in the kitchen more of a breeze, but it also looks great as well - so you get the best of both worlds.
Powerful Motor
The high performance motor of the Smeg KSET900XE ensures that your kitchen will be odour free in no time. This hood can clear a room of smoke at a rate of 581 m³/h, at its highest extraction rate, whilst still being one of the quieter hoods on the market.
3 Speeds
This hood has 3 different extraction speeds to choose from, giving you the flexibility to clear away odours, big or small. Smaller odours require a lower extraction rate and so by choosing a slower speed you can save energy and some money too!
A Breath of Fresh Air
Extracting air can be done two ways: external ventilation or recirculation. External ventilation simply means that, if your kitchen layout allows it, your cooker hood will simply draw air from your kitchen and push it outside. Recirculation, on the other hand, means that your cooker hood draws in air and then special charcoal filters remove unwanted smoke and odours before releasing clean air back into your kitchen. Your kitchen will stay smoke free and smelling fresh, whatever your layout!
Features
175 W High performance motor
3 Speeds
2 Aluminium filters
Internal re-circulation possible
Vent outlet: 150 mm
Recirculation or ducted
Extraction rate: 240-581 m³/hr
Noise level: 45-66 dB(A)
Energy rating: C