Product Information
Now you're cooking…
This oven offers you two cooking styles, the fan assisted oven and also the grill, so you can choose a cooking process best suited to your meal.
Cooking with gas can give you and your culinary creations a lot more freedom. Warm up time for your oven is a lot less than with other types of ovens. You can also have a lot more control over the temperature of your oven, this is particularly good if you are following recipes.
Better results…
This gas oven will give you evenly cooked dishes as the heat inside the oven is distributed evenly. Cooking with gas also allows for a moist cooking environment which means your dishes will not dry out, so you can deliver a better quality meal to the table.
Size matters
With a 50 Litre capacity this oven is ready and waiting to prepare your full Sunday roast or even a three course meal. There are four cooking levels with adjustable, anti-tilt, wire shelves, you can cook many dishes at once, and sliding the shelves in an out is made easier as the shelves come to a secure stop.
Cleaning is made easier
The interior of the oven is finished with a smooth easy clean enamel coating which is wipe clean. This will half you're cleaning time, no more scrubbing. The enamel coating is hard wearing and can also withstand corrosion which can come from spillages from high sugar foods.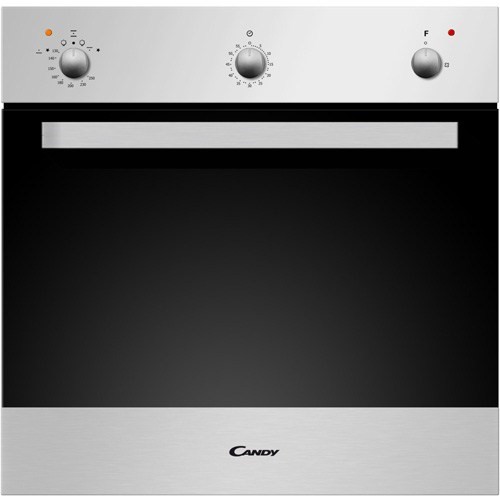 Energy rating A
This oven has been rated A which means it performs well and is highly efficient for its size and capabilities. As this is a gas cooker it is already leading the way in efficiency as it heats up and cools down a lot quicker than other ovens.
Features:
Traditional gas cooking
50L capacity
Electronic ignition
Minute minder
A-class clean enamel
Double-glazed door
Safety shelf system
---

Brilliant and simple ideas for daily life

Candy Warranty
Candy appliances automatically come with a 12 month call out, parts and labour guarantee.
Providing that you register your purchase Candy guarantees all parts for your product for 10 years from the date of purchase.

Smart, Accessible Products
Candy offers smart ideas to simplify your daily life with a complete range of connected products and unique, brilliant solutions.
By always offering something more at a lower price, Candy makes accessibility one of its essential values.

Customer Support
Candy service makes available to you a network of directly employed engineers to provide a prompt and effective high quality of service.
If you have a question or need support, Candy Customer Service are on hand to give you assistance.