Product Information
Enjoy your kitchen without unpleasant, lingering odours, thanks to the power of the Hotpoint Built-In Box Hood in stainless steel (PHBS6.8FLTIX). A modern design and boasting a fantastic A energy rating, the Hotpoint Box Hood delivers three stages of extraction power, with the optional Booster function for when you need extra oomph to clear the air of lingering smells such as fish, cabbage and curries. Featuring two stainless steel charcoal filters, control the intensity of you filtration via the Touch Control panel, which is also where you'll be notified when it's time to replenish your filters. Two LED lights ensure a great view of your hob and dishes, whilst the Silence Button will make sure that conversation does need to stop or even be interrupted. Make more of your kitchen with the Hotpoint Built-In Box Hood.
Stainless Steel Grease Filters
For a cleaner fresher kitchen. Stainless steel grease filters extract more grease from the cooking vapours, keeping your kitchen cleaner and more hygienic. If you wish, you can adjust the temperature and time settings to suit your own preferences.
Booster
For maximum extraction performance. The booster function increases the extraction rate further making sure your kitchen stays smelling fresh.
Clean Filter Indicator
No more guessing when to clean your filter. Our hoods with electronic controls are equipped with a visual indicator that comes on when you need to wash the grease filters or change the odour filter. Their service life is approximately 160 hours at any speed.
LED Lights
A true style statement. LED lighting not only looks great, it is the brightest and most energy efficient lighting available on hoods today. Not only do they light up the entire surface without shadows, they deliver energy savings of up to 90%, last 10 times longer and emit less heat than conventional lamps - a real bonus in the kitchen.
Run-on Timer
Return to a refreshed kitchen. Keeps the hood running for an extra 5 minutes then automatically switches off, leaving your kitchen fresh for when you come back in.
Key Features
LED lighting
A Energy
Touch control
Clean filter indicator
Run-on timer
3 Speeds plus booster
3 Stainless steel grease filters
Charcoal filter included
2 Lights
Massive 757 m³/hr extraction rate
---
HOTPOINT & JAMIE OLIVER
Pairing the very best of Jamie Oliver's home-cooking philosophy with Hotpoint's everyday, innovative products, our partnership is designed to help us all take care of the people we love through the joy of food. We believe our shared vision of eating well and developing easy-to-use appliances can shape the health and wellbeing of everyone.
"I'm so excited to be working with Hotpoint and show how their incredible equipment can make your life easier in the kitchen, so you can cook up a storm for your nearest and dearest, every day of the week."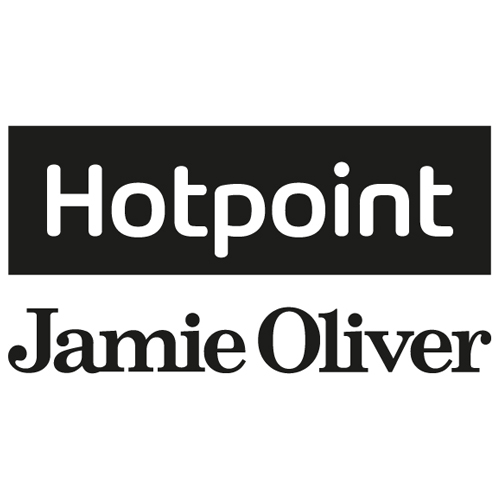 Please note: This chimney hood is designed to be fixed to a wall.