Product Information
The Samsung A-series American Fridge Freezer has a stylish design that brings a contemporary look to your kitchen. With a sleek gun metal grey finish and clean easy pull bar handles the fridge compliments all kitchen types. With an impressive 520L capacity it easily caters to large households.
SPACIOUS ORGANISED STORAGE
This spacious fridge freezer gives plenty of storage space for the whole family with 340L of fridge storage and 180L of freezer storage. Both the fridge and freezer feature large drawers, multiple shelves and plenty of door racks, making it easy for you to organise your food and avoid mixing foods that should not be stored together.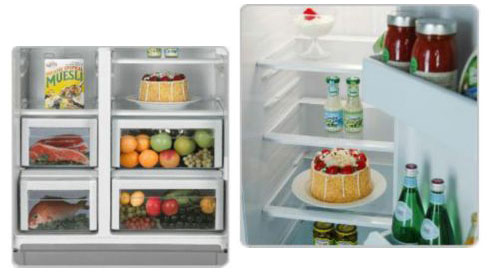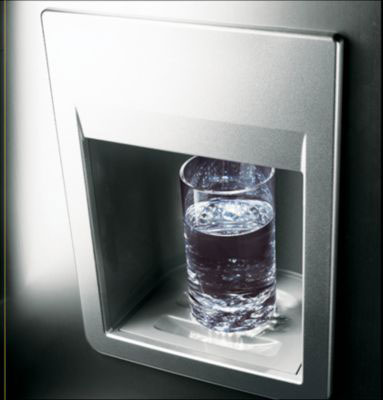 CONVENIENCE
The fridge has its own built-in water dispenser giving you fresh, chilled water at the push of a button without the need for any extra plumbing.
With No-Frost technology food stays in prime condition, no sticking or ice build ups, and making food easy to recognise and store.
The freezer has a large top guard, this gives you extra space in the upper part of the freezer compartment.
In the event of power failure the freezer can safely store food for up to 12 hours, giving you plenty of time to get things back in working order.
The fridge freezer has easy to use electronic controls with a clear display, enabling you to keep an eye on temperature and easily adjust it if needs be. The fridge freezer can also alarm you if it detects unusually high temperatures.
MULTI-FLOW
The fridge freezer has small vents over each level which work to maintain even temperature throughout the fridge and freezer sections. This also prevents any odour transfer between the fridge and freezer compartments.
DIGITAL INVERTER TECHNOLOGY
Equipped with a digital inverter this fridge freezer consumes up to 46.9% less energy than fridge freezers with a single-speed induction motor compressor. Meaning it's kinder to the environment and also your energy bills.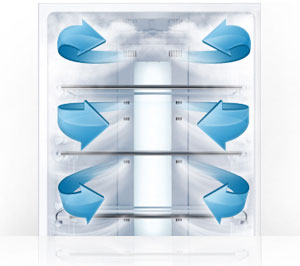 Features:
Spacious 520L capacity
Seamless, modern design
Digital inverter technology, energy saving
No-Frost technology
Multi-air flow, even cooling throughout
Non plumbed water dispenser
Twin cooling plus, maintains optimum conditions in both sides
Multiple fridge & freezer drawers
Electronic temperature control & display
Interior LED light
Fridge storage: 340L, Freezer storage: 180L
4 Star freezer rating
12 Hour power failure safe storage
Open door alert
High temperature warning facility
Ambient temperature 10 to 43°C
Energy efficiency rating: A+
Noise level: 43dB
Annual energy consumption: 439kWh
Dimensions: H178.9 x W91.2 x D73.4 cm
N.B. All large fridge freezers are doorstep or garage delivery only.
---